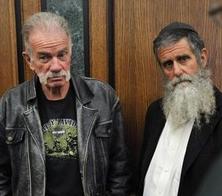 A diverse array of UC Irvine students were prepared to protest against a controversial pastor after it was announced he might speak on campus.
Students gathered in front of Langson Library, some sitting on blankets, facing the area covered in caution tape where the Rev. Terry Jones intended to speak. However, Jones was told not to come on campus after UCI police received intelligence informing them of suspicious activity associated with the visit that aroused safety concerns.
The Florida pastor is known for threatening to burn the Koran on the anniversary of 9/11 and eventually did so in March, sparking an international reaction that included protests in Afghanistan, where they burned effigies of the pastor in the streets.
The campus has dealt with tensions between Jewish and Muslim groups after some Muslim students interrupted an Israeli ambassador during a speech. They were later charged and convicted in what became known as the "Irvine 11" case. But on Thursday, Jewish and Muslim students came out to oppose Jones.
Ilgiz Khismaov, a Muslim UCI graduate, came on campus to check out how students were responding. He said he was pleasantly surprised to see that many students rejected the pastor's intolerance message. "He came here to stir hatred and raise tension," he told the Daily Pilot. "The awesome thing is that Jewish and Muslim students have come together against it."
Lee Weissman, 51, lives in Irvine and said he wanted to come when he heard a rabbi was accompanying Jones. "I wanted to make the point that he doesn't speak for me," said Weissman, who is Jewish.
The rabbi in question was the English Defence League's ally, Nachum Shifren (pictured, with Jones).