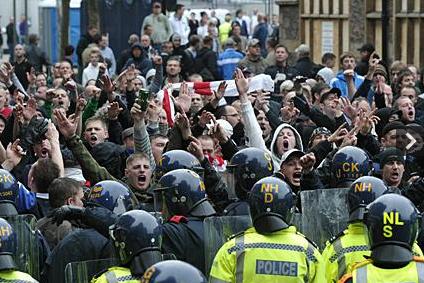 'Not extreme right wing' – EDL demonstration in Leicester, October 2010
Leicester Unite Against Fascism has applied to stage a counter protest to a proposed march by the English Defence League. The group wants to stage a march and rally at the same time as the EDL on Saturday, February 4.
City mayor Sir Peter Soulsby and senior police officers are now considering their response to the two applications, both of which could draw hundreds, possibly thousands, of people to the city centre.
The last time the EDL held a national protest in Leicester, on October 9, 2010, it turned violent. Protesters in a cordoned area reserved for the EDL pelted police with bottles, bricks, coins and smoke bombs. Several hundred also broke through police lines and were involved in scuffles with local youths.
A spokesman for Leicester UAF said the group was recruiting local musicians to perform on stage at the conclusion of the march, adding: "We want people to be able to show they are not scared to come to their city centre on that day. We are looking to create a peaceful and safe way for people to demonstrate their opposition to the EDL."
The Leicestershire Federation of Muslim Organisations is advising people not to participate in counter demonstrations or to attempt to tackle the EDL.
Its spokesman, Suleman Nagdi, said: "Our message will be the same as last time. We are urging people, particularly the young, to refrain from going into the city centre to oppose the English Defence League out of some misguided idea that they are protecting their city. We are best to leave everything to the experts – in this case the police."
Leicester Mercury, 18 January 2012
See also "Leicester antifascists meet to organise protest against EDL", UAF news report, 17 January 2012
---
It's not the role of this website to criticise leaders of the Muslim community, but it's worth pointing out that in April last year Suleman Nagdi held a meeting with the EDL in a Leicester pub to discuss their concerns about "Islamic extremism". The meeting was evidently brokered by Leicestershire Constabulary who sent along an inspector to represent them. Leicester EDL enthusiastically welcomed this recognition of their gang of violent racist hooligans as a supposedly legitimate organisation. One of their leading local figures wrote:
"Both myself and the inspector explained to Suleman that biased press and whipped up fear prior to the National demo in Leicester in october had led to us as a division being treated rather unfairly by the police and the muslim community. The inspector seemed happy to take over at this point and gave what can only be described as a glowing reference of not only the Leicester Division but the East Mids region, United Midlands divisions and anyone else who has been represented at our local organised and local flash demonstrations, dealt with by Leicestershire constabulary!"
Local antifascists tried to persuade Nagdi that he was mistaken in engaging in such a discussion, which could only play into the hands of the EDL, but he rejected their arguments.
Later in April 2011, evidently inspired Nagdi's meeting with Leicester EDL, Detective Chief Superintendent Adrian Tudway, the National Co-ordinator for Domestic Extremism, emailed a Muslim organisation telling them that the EDL are "not extreme right wing". He added: "I really think you need to open a direct line of dialogue with them, that might be the best way to engage them and re-direct their activity."
Zaheer Ahmad, president of the National Association of Muslim Police, commented: "There is a strong perception in the Muslim communities that the police service does not take the threat of right wing extremism seriously…. The community perception is reinforced by the position of the National Domestic Extremism Unit which does not view EDL as right wing extremists. There is a considerable body of independent evidence, which is growing at staggering pace, to highlight the serious threat of EDL to our communities."
More recently Suleman Nagdi has given his support to the anti-sharia parliamentary bill introduced by Geert Wilders' admirer Baroness Cox.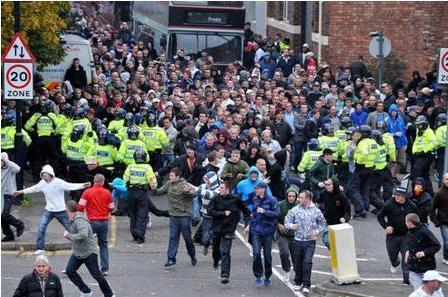 EDL thugs break through police lines during their October 2010 protest in Leicester
Update:  The Federation of Muslim Organisations has circulated a defence of Suleman Nagdi which you can read here.