The UK Independence party has suspended one of its five supporters chosen to appear on its first European election broadcast after it emerged he had posted a series of racist and Islamaphobic tweets that also condemned Ed Miliband as "a Pole" and called for Africans to be left alone to kill themselves.
The election broadcast featured builder Andre Lampitt criticising eastern European immigration. He said: "Since the lads from eastern Europe are prepared to work for a lot less than anybody else, I've found it a real struggle." In common with the other Ukip supporters featured on the broadcast Lampitt is not named.
After the tweets came to light, a Ukip spokesman said: "We are deeply shocked that Mr Lampitt has expressed such repellent views. His membership of the party has been suspended immediately pending a full disciplinary process."
Lampitt's offensive and potentially unlawful tweets have been posted in the past few months. He describes Islam as a Satanic religion and claims Nigerians are bad people.
The Ukip leader, Nigel Farage, has repeatedly claimed he cannot control all the views of his party membership and insisted his posters are not designed to encourage racism. But Lampitt was handpicked by Ukip headquarters to represent the views of working-class people in the UK, and it appears no checks were made to examine his wider opinions.
Lampitt describes himself as "Born British in Rhodesia". In one tweet he claimed that Islam is not a religion and called it an "evil organisation". Another says: "Get over it, slavery was an act of war. you lost stop being so damn jealous and move forward."
He also said he wants to start a website called Islamoutofuk.co.uk. He tweeted: "Most Nigerians are generally bad people I grew up in Africa and dare anyone to prove me wrong."
Condemning the Labour leader he said: "Miliband is not a real Brit. I hope he never gets to be PM! He was only born here."
He also claims statistics on rape would reveal a racial bias in the perpetrators, and another stated: "All Muslims needs to leave Europe America and Oz,or denounce their pathetic satanic religion".
Tim Farron, the Liberal Democrat president, said he was aghast at the tweets. "I cannot believe that Ukip did not check the comments of this man before they used him in their broadcast. His staggeringly racist views might even make the BNP wince with embarrassment.
"Just a week after the French National Front opened their arms to Ukip, with comments like these it's easy to see why they did. Ukip might wrap themselves in the flag, but these comments are deeply offensive to anyone with decent British values."
The tweets were taken down on Thursday afternoon, but screen shots are in circulation on the internet.
See also "Ukip suspend election broadcast star Andre Lampitt for 'repellent views', said Africans should 'kill themselves'", Huffington Post, 24 April 2014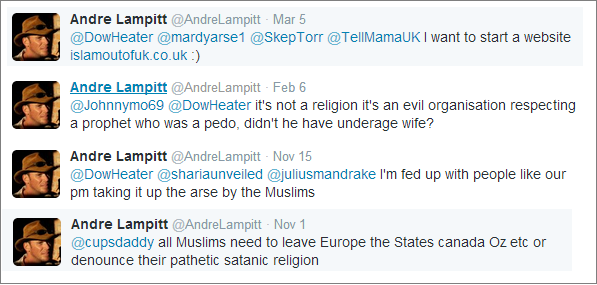 Update:  See "Ukip's cynical anti-immigrant message", letter to the Guardian, 1 May 2014