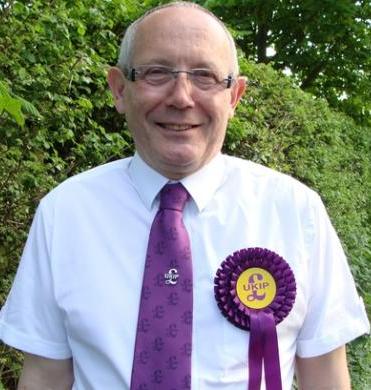 A new UKIP councillor in Worcestershire has sparked fury amid allegations he unleashed a series of racist abuse online. Eric Kitson, who won a seat in Stourport just 11 days ago, is facing the sack today over a whole raft of anti-Muslim, anti-Jewish Facebook posts.
Among the most shocking is a cartoon of a Muslim being spit-roasted on a fire fuelled by copies of the Koran. In one comment he said in reference to Muslim women: "Hang um all first then ask questions later."
A raft of anti-Jewish remarks have also appeared on his Facebook site, and in a separate post he has called for the repatriation of "six million migrants and refugees". There were also false claims posted on his site that the Rothschild banking dynasty had controlled Nazi Germany's leader Adolf Hitler.
His Facebook page has also called for Muslim women to be hanged, suggested Islam is "a cancer" that should be eradicated "with nuclear weapons" and expressed support for BNP boss Nick Griffin by 'liking' him. His site also called for the world to "unite against Islam" and supports the far-right English Defence League.
Update:  See "Eric Kitson resigns after 12 days as Ukip county councillor over offensive anti-Muslim postings on Facebook page", Independent, 15 May 2013