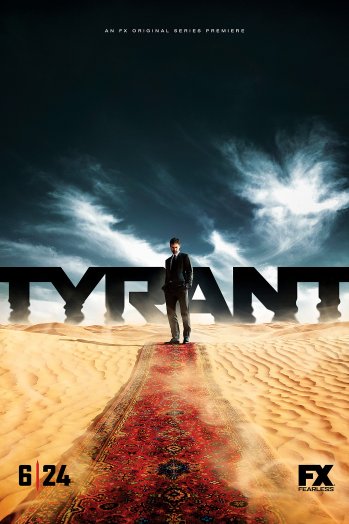 The release of a new FX Networks series about an Arab Muslim who returns to his home country with his American wife and children after 20 years in the US has sparked concerns of US Muslims, expressed worries about potential Islamophobic stereotyping of the whole Muslim world.
"In the pilot of FX's 'Tyrant,' Arab Muslim culture is devoid of any redeeming qualities and is represented by terrorists, murderous children, rapists, corrupt billionaires, and powerless female victims," Ibrahim Hooper, National Communications Director of the Council on American-Islamic Relations (CAIR), said in a statement obtained by OnIslam.net.
Hooper, who attended Wednesday night's screening, added: "In 'Tryant,' even the 'good' Arab Muslims are bad."
"Tyrant," which debuts Tuesday, follows the journey of a California physician who is also the son to the dictator of a fictional Middle Eastern country. In the pilot, the son and his family return home after a self-imposed 20 year exile. The pilot was shot in Morocco, while the series will be produced in Israel.
Muslim concerns were somehow reflected in the review of the series made by Entertainment Weekly.
"Khaled is your classic Big Bad, a guy who trains his children to kill and leaves his son to burn in a terrorist attack. Bassam's older brother, Jamal (Ashraf Barhom), is the arrogant monster you'd expect, slicing one of his detractors with a razor, raping whomever he pleases, and blasting terrible classic-rock anthems from his flashy sports car. …The problem is that so far they're stock characters. Maybe that's an unfortunate side effect of setting the show in Abbudin, a distant desert land that seems to borrow its real-life events from Egypt, Syria, and Libya. When you give your country a fake Middle Eastern name, you risk turning it into a stand-in for all Middle Eastern countries," Entertainment Weekly wrote.
Hooper refuted the producer's claims that the series is merely a reflection of the brutal actions of dictators like Saddam Hussein, Bashar al-Assad and Muammar Gaddafi. "Unfortunately, 'Tyrant' will be seen by many viewers as an indictment of an entire culture," he added.
Following an earlier meeting with the series producer, they offered assurances that future episodes will be more "nuanced," Hooper said. He also expressed appreciation for the efforts of other groups like the Muslim Public Affairs Council (MPAC) and Muslims on Screen and Television (MOST) for working with the producers of "Tyrant" to minimize stereotypes.
"Tyrant" is not the first series to raise American Muslim concerns over stereotyping. CAIR has challenged actual and potential anti-Muslim stereotypes in productions such as ABC Family network's "Alice in Arabia," "Executive Decision," "24," "The Siege," "True Lies," "Rules of Engagement," "Obsession," "The Third Jihad," "Jihad in America," and "The Sum of All Fears."
Though there are no official estimates, the US is home to an estimated Muslim minority of six to eight million.
See also "CAIR asks reviewers of FX's 'Tyrant' to address stereotypes of Muslim, Arab culture", CAIR press release, 20 June 2014