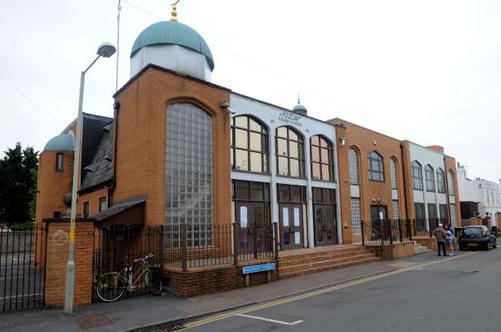 A Cheltenham man has been charged with conspiracy to commit arson following a "hate crime" at a mosque.
Ashley Henry Juggins, 20, of Brooklyn Road will appear before magistrates today following the blaze in Gloucester. Clive Michael Ceronne, 37, of Redwood Close in Gloucester faces a similar charge after an attack on Masjid-E-Noor in Ryecroft Street in the early hours of Tuesday morning.
Police confirmed yesterday it was being treated as a hate crime after CCTV appeared to show someone pouring petrol around the door and igniting it with a lit rag.
Since the attack police have been talking to the Muslim community in Cheltenham to allay fears. They have vowed to step up patrols around Gloucester's mosques and said the two in Cheltenham were on current routes.
Gloucestershire Echo, 20 June 2013
---
Cerrone (which would appear to be the correct spelling of his name) has a history of activism in the English Defence League and is also the Gloucestershire district officer of a group of Mosley-admirers called the New British Union. Juggins is associated with the EDL breakaway group the South West Infidels.
See also "Community calls on Gloucester mosque 'hero' to come forward", The Citizen, 20 June 2013
The report states:
Community leaders are now calling on a mystery man, believed to be a taxi driver, possibly Polish, who was also caught on camera leaping from his car and tackling the flames with a fire extinguisher, to come forward.
Yakub Patel, from the Gloucester Muslim Welfare Association, said: "We would like to extend our gratitude to the Gloucestershire Constabulary on the swift arrests. Our heartfelt appreciation must also go to those who put their lives in danger by putting out the fire in the middle of the night. GMWA and the mosque remains committed to work towards promoting peace, tolerance and community cohesion across our diverse county."
Saj Patel, city councillor for Barton and Tredworth, also praised the man's heroics. "What this guy did was unbelievable," he said. "It would have been easy to walk on by or just call the emergency services. It took a lot of guts to take on that fire, his bravery should be rewarded. Hopefully he will come forward so the community can thank him."
Update:  See "Cheltenham man in court on mosque attack", Gloucestershire Echo, 21 June 2013