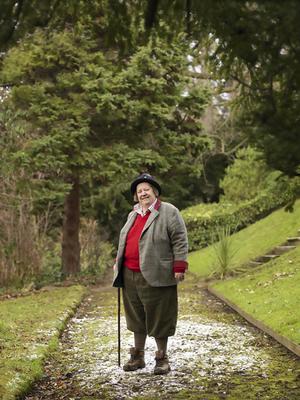 A celebrity chef has come under fire after making "hurtful" comments about the city's Muslim community. In her new book, Clarissa Dickson Wright describes a visit to Leicester "as one of the most frightening experiences of my life".
The 65-year-old dedicates a chapter of Clarissa's England: A Gamely Gallop Through the English Counties to each county in England, discussing their culinary, cultural and historical merits. On Leicestershire, she writes of the city's "ghetto".
She describes coming off the ring road to escape a traffic jam and becoming lost. "I found myself in an area where all the men were wearing Islamic clothing and all the women were wearing burkas and walking slightly behind them," she wrote. She said the men would not talk to her "because I was an English female and they don't talk to females they don't know".
She said: "Here I was, in the heart of a city in the middle of my own country, a complete outcast and pariah. If multiculturalism works, which I have always been rather dubious of, surely it must be multicultural and not monocultural. I can only hope that in generations to come there will be a merging of the cultures and not the exclusion zone that is the ghetto."
Ibrahim Mogra, assistant secretary general of the Muslim Council of Britain, and a city imam, said: "How is she judging an entire community on her one-off rare time of getting lost in Leicester? I find it very hurtful to read because everybody is working so hard to create a peaceful and happy Leicester.
"It showed a complete lack of appreciation of the fact we are almost two million in this country, doing our bit for our country. When she says that she was in the centre of a city in the centre of her own country, I take objection. This is also my country and this is also my city.
"I would like to call on Leicester people to be even more welcoming and hospitable than we've been so far."
Mayor Sir Peter Soulsby said: "That is the sort of thing that makes me very angry – when someone breezes in from outside and paints a picture of Leicester that does not have any foundation in reality. It may help sell books but it is cheap."
Councillor Manjula Sood, chairman of Leicester Council of Faiths, urged readers to ignore her comments. "I don't believe a meeting with one person on one street should mean you can label a whole city," she said.
Both Coun Sood and Mr Mogra invited Ms Dickson Wright back to the city for an opportunity to change her opinions.
When contacted by the Mercury, the chef, who lives in Edinburgh, said: "I'm surprised any of the people who might object could read what I wrote as it is written in English. When you get to 65, you will think back on this conversation and I think you might find yourself in my frame of mind." She said she had a lot of Muslim friends but her experience of Leicester was "unpleasant".
"It scared me and I am not scared easy," she said. Asked why, she said: "Because it was part of my country that I was born in and there are a lot of radical Muslim preachers in this country.
"I was in London when the July 7 (2005 bomb attacks) happened and this to me was proof for those people who have been saying we're getting ghettoisation of Muslim areas. I have never believed that political correctness was a reason not to say what I have experienced."
She said she had "done a lot" for Leicestershire, campaigning for the protected geographical status of Melton pork pies and Stilton. In her book, Ms Dickson Wright praised Melton's food festival, saying "it was just everything that a good food festival should be". She also wrote about "charming" Market Harborough, and "pleasant" Oakham.