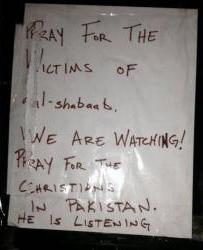 A troubling note was found taped on the front door of the Islamic Center of Temecula Valley in Murrieta. It was discovered on Sunday during evening prayer.
The note makes mention of the recent mall attack in Kenya and the suicide bombing at a church in Pakistan. The note did not contain any specific threats, but police are investigating.
The Islamic Center is offering a reward for information on who may have left the note.
See also "MURRIETA: Suspicious note discovered at Islamic Center", Press-Enterprise, 25 September 2013
Update:  See "MURRIETA: Man who left suspicious note at Islamic Center identified, police say", Press-Enterprise, 27 September 2013