The Sunday Telegraph continues to pursue the Tory right's campaign against Sayeeda Warsi, who was recently referred to Sir Alex Allan, the independent adviser on the Ministerial Code, after she accepted that she had committed the (very minor) offence of forgetting to declare a business relationship with her husband's cousin Abid Hussain when he accompanied her on a visit to Pakistan.
According to the Telegraph's investigations editor Jason Lewis, "there were calls last week for the inquiry, ordered by David Cameron, the Prime Minister, to be widened after Mr Hussain admitted that he had been involved in Hizb ut-Tahrir, a radical Islamist party that the Conservatives had pledged to ban". Who the people making these calls might be, Lewis doesn't tell us. Perhaps this is because the "calls" were more in the nature of malicious whispers, which is how some Tory rightwingers have been attempting to undermine Warsi ever since she was appointed party co-chairman.
Although Hizb ut-Tahrir is well known to be a non-violent organisation, Lewis tells his readers that it has been accused of "praising suicide bombers and urging Muslims to kill Jews". If there is any substance to these accusations, Lewis might like to explain why the Tories have failed to follow through with their manifesto commitment to illegalise HT. Could it possibly be that the government checked out the accusations against HT and found that there were in fact no grounds on which it could justify a ban?
In any case, Abid Hussain's youthful involvement with HT took place two decades ago. Lewis has produced no evidence to indicate that Hussain even retains any sympathies with the group, still less organisational links. Nor does Lewis provide any reason to question Baroness Warsi's statement, which he reported in last week'sSunday Telegraph, that she was entirely unaware that Hussain had ever had any connection to HT.
The only additional "information" on the issue that Lewis has found since last week is provided by his fellow witch-hunters at the Quilliam Foundation. Fresh from accusing Masjid-al-Tawhid in Leyton of posing a terrorist threat to the Olympics, Quilliam now steps forward to back up Lewis's charge that Abid Hussain was once a "leading figure" in HT, claiming that he "acted as a key recruiter and propagandist" for the organisation in the 1990s.
In response to Hussain's unequivocal statement that he "has never been a member of Hizb ut-Tahrir", Ghaffar Hussain of Quilliam argues: "Hizb ut-Tahrir have a very idiosyncratic definition of the term 'member'. Only the very senior and public activists call themselves 'member'. This gives the junior activists and those who don't want to be public about their involvement plausible deniability by claiming that they are not officially 'members'." Quite how Abid Hussain could have acted as a "key recruiter and propagandist" for HT on that informal and low-profile basis is not explained.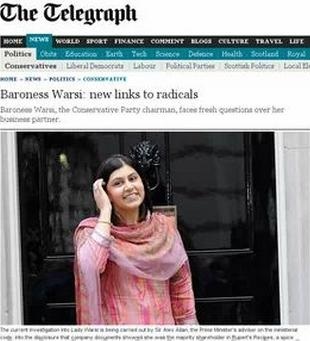 Lewis's article is now titled "Baroness Warsi and the 'extremist'". However, as you can see from our illustration, the original headline was "Baroness Warsi: new links to radicals". So, what "new links to radicals" has our intrepid Telegraph reporter uncovered?
Bizarrely, this would appear to be a reference to the Pakistan Muslim League (Nawaz), a moderate centre-right political party which is currently the main parliamentary opposition to the governing PPP in Pakistan. Nothing very "radical" there you might think. However, Lewis finds it significant that Warsi had her photograph taken with Anjum Chaudhary, the president of PMLN's UK Youth Wing, who "organised a protest outside Parliament in May last year against President Obama's state visit".
Lewis omits to mention that the protest was in fact against the US government's use of drone strikes in Pakistan, which are carried out in violation of international law and have killed hundreds of innocent people along with the suspected al-Qaeda militants they are meant to target. If opposing that policy is an indication of dangerous radicalism, then the overwhelming majority of the population of Pakistan are dangerous radicals. Indeed by that criterion so is UN High Commissioner for Human Rights Navi Pillay, who recently proposed that the UN Special Rapporteur on extrajudicial, summary or arbitrary executions should be asked to investigate the killings.
You would have hoped that, despite political differences with Warsi, the Labour Party would take a stand against this shameful witch-hunt. After all, the point could be made that, for all Cameron's efforts to detoxify the Conservative Party brand and project a more socially progressive image, the Tory right remains infested with Islamophobic bigots and neocons who have never accepted that a politician with roots in the Muslim community should be appointed to a leading position in the party and are now seizing the opportunity to try and remove her.
Instead, Labour's shadow cabinet office minister Michael Dugher has happily jumped on the right-wing anti-Warsi bandwagon. "These further revelations about the conduct of Baroness Warsi are extremely worrying", Lewis quotes Dugher as saying. "… What the baroness was doing with someone who has admitted his involvement with the extremist Islamist group Hizb ut-Tahrir also calls into question her judgment."
No doubt Muslim and Pakistani members of the Labour Party will make their views heard about Dugher's atrocious role in this disgraceful affair.