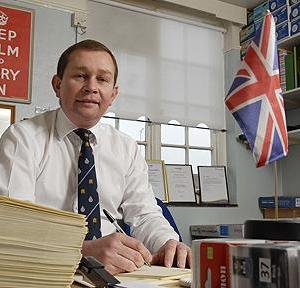 An MP has called the wearing of burkas the religious equivalent of "going round with a paper bag over your head".
In a parliamentary debate, Conservative MP Philip Hollobone said it was "offensive" for women to cut off face-to-face contact with other people. The Kettering MP said he had "huge sympathy" with those who wanted a ban on face-covering veils in public.
Speaking in Parliament's Westminster Hall, Mr Hollobone raised the controversial issue, saying it was at the "crude end" of the immigration argument. He said:
"I have huge sympathy with those who say they want action against those who want to cover themselves up in public. How ridiculous would the House of Commons be if we all wore burkas? How would Mr Speaker (John Bercow) be able to identify which Member to call next?
"It is the religious equivalent of going round with a paper bag over your head with two holes for the eyes. It is offensive in my view to want to cut yourself off from face-to-face contact or recognition with other members of the human race. I think we should certainly look at ways to tackle that issue."
Update:  See also ENGAGE which quotes a comment by Hollobone that is omitted from the media reports:
"The problem is the scale of the immigration – the number of people heading our way – and it is going to overwhelm our indigenous culture in ways that are frankly unacceptable."
How exactly does this differ from the sort of thing you might read on the BNP website?