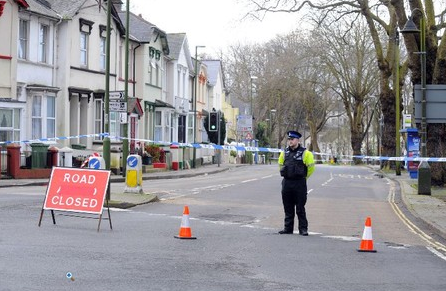 Torquay road closed in January this year during terrorism search
A 20-year-old Torquay man has appeared in court charged under the Terrorism Act following an incident near the coach station earlier this year.
John Roddy, 20, of Babbacombe Road, Torquay, appeared at Exeter Magistrates Court on Tuesday morning. He was charged with possessing a document containing information useful to terrorism. The charge is brought under section 58 of the Terrorism Act 2000. It alleges that on January 3 he possessed on a laptop computer 'The al-Qaeda training manual' and '2083 – A European Declaration of Independence'.
He was also charged with distributing threatening material to stir up religious hatred between November 1, 2012 and January 4, 2013. A third charge is that between July 1, 2012 and January 4, 2013 he conspired to cause criminal damage
The charges are in connection with an incident on January 3 this year when houses in Lymington Road were evacuated for seven hours after "suspect items" were found at a house.
Tobias Daniel Ruth, 18, from Morgan Avenue in Torquay, also appeared charged with conspiracy to send malicious messages and conspiracy to cause criminal damage.
Neither man was required to enter pleas. The case was sent to the Central Criminal Court in London. Both men were granted conditional bail until that hearing on June 4.