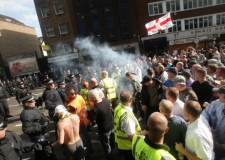 Far right group the English Defence League has announced plans to march through Tower Hamlets this summer. The group unveiled dates for a series marches on social networking site Facebook on Monday, with protestors planning to come to the East End on August 24. Demonstrators clashed with police during an EDL march in the area in 2011.
Bethnal Green and Bow MP Rushanara Ali called for the proposed demonstration to be banned. Poplar and Limehouse MP Jim Fitzpatrick added: "All the EDL want to do is start trouble and divide a community which is built upon tolerance and respect for each other. We'll show them once again that their brand of hate has no place in a borough which is united and not divided. I'll be doing all I can in the coming months to ensure this march doesn't go ahead."
Tower Hamlets Mayor Lutfur Rahman, who has previously challenged the Home Office to ban marches, insisted he would be doing so again. "I will be speaking with the police to discuss preventing this latest attempt", he said. "The EDL seek to stir up trouble and there is absolutely no place for their divisive agenda here. Our diverse communities have always united against such division".
Labour's mayoral candidate in Tower Hamlets John Biggs said the EDL "have no place here", and Tower Hamlets Council's Labour group leader Cllr Sirajul Islam echoed calls for a ban.
The Home Office banned a proposed march through east London in October last year. But a police spokesman said on Tuesday: "Any sort of lawful protest of demonstration will be policed accordingly."