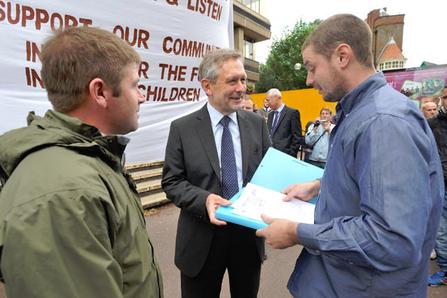 EDL member Chris Hopewell presents Forgotten Estates petition to Leicester mayor Peter Soulsby
The future of a disused scout hut was decided today with a Muslim community group, which wanted to take it on, being told it can have another building.
The scout hut, in Nursery Road, Thurnby Lodge, Leicester, will be handed to residents who have protested against the As-Salaam Trust's plan for the building since last summer.
The protesters, who have formed their own group called the Forgotten Estates Committee, will be given the lease on the scout hut for two-and-a-half years. They have told Leicester City Council they will develop it as a community centre.
The As-Salaam Trust has been told it can have the lease to the Raven Centre, which is next to the Thurnby Lodge Community Centre where it has been meeting for prayers for the past three years.
Sir Peter made the announcement after meeting both groups this afternoon.
It followed a public consultation in which questionnaires were sent to 7,000 households in Thurnby Lodge and neighbouring Netherhall. Approximately 1,400 responses were returned to the council – a turnout of approximately 20 per cent. Most backed the plan Sir Peter unveiled today.
He said: "The results of the consultation show the vast majority of people who responded are in favour of the community taking on responsibility for the former scout hut, and As-Salaam taking on the Raven Centre.
"This option meets everyone's needs, and I am therefore offering both groups the opportunity to make this happen.
"We have had a long period of research, discussion and consultation. It's now very important for all concerned that we take this decision and move forward in a positive manner."
Sir Peter added that a "small number" of services currently provided at the Raven Centre would be moved to the community centre or other facilities in the area.
There has been a long-running police operation to make sure the protests outside the community centre, when As-Salaam members were meeting for prayers, remained peaceful after complaints that worshippers felt intimidated.
On Boxing Day a pig's head was found outside the centre. A 23-year-old man has been charged in connection with the incident and is due to appear in court later this month.
Three other people, a woman aged 40 and two men aged 37 and 46, were also arrested on Friday. They have been released on police bail pending further investigations.
This is Leicestershire, 4 January 2013
Update:  See "Persecution of Thurnby Lodge Muslims continues despite 'resolution'", Leicester UAF, 7 January 2013