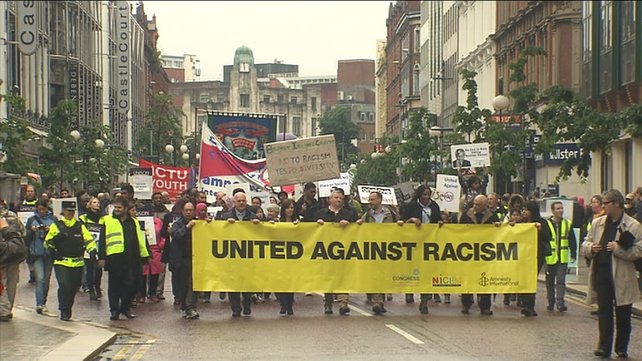 Thousands of people have taken part in an anti-racism march in Belfast. Organisers said it was designed to "reassure ethnic and religious minorities in Northern Ireland". Representatives of the Muslim community and trade unions were among those who spoke at a rally ahead of a march from Writers' Square to Belfast City Hall.
It was organised in response to an upsurge in hate crime and controversial remarks about Islam by a pastor and First Minister Peter Robinson. Pastor James McConnell made a public apology on Friday for calling Islam "heathen" and "satanic".
Saturday's march was led by Belfast's Lord Mayor, Nichola Mallon, Dr Donald Watts, president of the Irish Council of Churches and Dr Mazhar M Khan, a member of Northern Ireland's Muslim community. Amnesty International, the Northern Ireland Committee of the Irish Congress of Trade Unions (NIC-ICTU) and the Northern Ireland Council for Ethnic Minorities (NICEM) organised the event.
Patrick Yu of the Northern Ireland Council for Ethnic Minorities said: "The message today is quite simple – say no to racism." Amnesty International's Patrick Corrigan said the event was "an opportunity for people to stand with their neighbours of all ethnic origins and religious faith groups". "It's also a chance to send a message to politicians that the lack of political action on this issue is no longer acceptable," he added.
Kasia Garbal, an ICTU migrant workers' project officer who is originally from Poland, said recent hate crimes had "made me wonder why I'm here". "I've been here for 10 years and this is my home, but the last few weeks have been really difficult," she said. "It's moving for me that so many people of all nationalities, races and different beliefs came out here today."
Earlier this week, Pastor McConnell apologised for his comments about Islam. On Friday, he was questioned for almost two hours about his remarks by police.
Northern Ireland First Minister Peter Robinson was heavily criticised when he backed Mr McConnell, although he said his remarks had been misinterpreted. On Tuesday, Mr Robinson visited the Belfast Islamic Centre and made a public apology for his comments.
Last Saturday, around 4,000 people attended anti-racism rallies in Belfast and Londonderry.