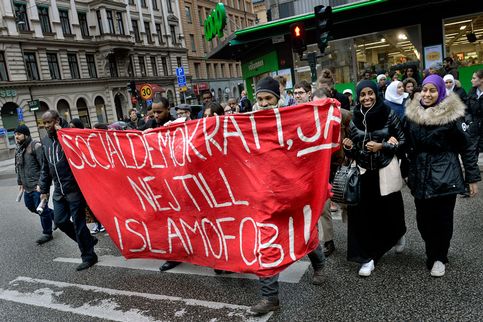 'Social Democracy, yes. No to Islamophobia!' – demonstration last week in support of Omar Mustafa
Omar Mustafa has spoken out about his disappointment in the Social Democrat party, saying he felt let down by the leadership after being ousted from the party's governing board just a week after his appointment.
"My involvement in different Muslim civil society organizations was seen as a burden and they asked me to give up my position," Mustafa told newspaper Svenska Dagbladet (SvD).
Mustafa, who chairs Sweden's Islamic Association (Islamiska förbundet), resigned from all his duties with the party after mounting criticism centring on the Islamic Association's links to individuals with known anti-Semitic and homophobic views.
Asked if there was a particular incident that made him agree to quit the Social Democrats, Sweden's left-of-centre opposition party, Mustafa replied that the leadership had sent a clear signal that the party lacked confidence in him.
"There was neither will nor ability to handle the media hunt against me even though they know very well that I have done nothing wrong and that the media hunt turned Islamophobic in character," Mustafa wrote in the email interview with SvD.
He declined to clarify who "they" are but said it felt like "one, without reflecting properly, gave into Islamophobic forces within and outside the party".
Commenting on Social Democrat leader Stefan Löfven's statement on Friday that it is not possible to be an elected representative of the Social Democrat party if you cannot also fully stand up for the party's values, Mustafa said:
"It is unfortunate that this statement was made without finding out that I of course stand for all humans' equal worth and for equality between men and women."
Speaking out on Mustafa's contentious departure, Löfven admitted that the situation had been poorly handled. He also said that Mustafa had been asked to resign because he, as chairman of the Islamic Association, had invited speakers with known anti-Semitic and homophobic views. "He was not clear enough on whether or not he intended to continue inviting these people," said Löfven.
In response to Mustafa's comments, Social Democrat party secretary Carin Jämtin said: "I fully understand that it has been a really tough week for Omar Mustafa but at the same time I want to be clear that I share the judgement that the board of the Stockholm Labour Committee [Stockholms arbetarekommun] made after speaking to him."
According to Jämtin, Social Democrats in top positions can have different religions. "I also want to be clear that you of course can be an active Muslim, Jew or Christian or a non-believer and be part of our party board," Jämtin added.
Former EU commissioner and Social Democrat politician Margot Wallström was very critical of her own party's handling of the event.
"It has been very poorly managed," Wallström told Sweden's TV4 on Saturday. She added that the event has harmed the party and complained that politics today is shallow with little depth and content. "I can't stand it," she said.
Wallström is not the only party member to oppose the leadership's handling of the case.