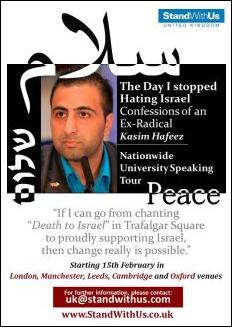 As a child, Kasim Hafeez often heard his father praising Adolf Hitler, lamenting only the Nazi tyrant's failure to kill even more Jews during World War II.
A son to a British family of Pakistani origin, he grew up in a fundamentalist Muslim community that called for the destruction of all Jews and taught him to believe that that Israel is a terror state.
But after years of taking part in anti-Israeli and anti-Semitic activity, Hafeez's beliefs took an unexpected 180-degree turn. The man who now calls himself "a proud Muslim Zionist" has arrived in Israel for a four-day visit on Saturday as part of his effort to battle misinformation about the Jewish state.
In a meeting with Deputy Foreign Minister Danny Ayalon and the press on Sunday, Hafeez noted that much of the hatred and intolerance of Israel stems from ignorance.
"I've always said that (the problem) with Israeli advocacy (is that) we're not getting the truth out there," he said. "(…) People don't know the facts. I would say to anybody, come to Israel. See the rights that Muslims have.
"It's a beautiful thing, Israel is truly a nation of all its citizens," he added.
"Truly a nation of all its citizens"? This from a man who was last seen in the UK leading a British Israel Coalition demonstration in defence of anti-Arab racist and would-be ethnic cleanser Avigdor Lieberman.