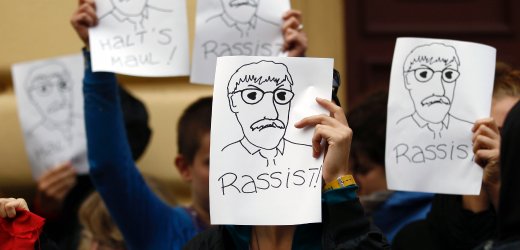 Sarrazin's work [Deutschland schafft sich ab] is a long and divisive essay, based on questionable statistics, about what he considers to be the combined ill-effects of continued Muslim immigration and an accelerating decline in the birth rate of intelligent white Germans.

His argument, boiled down, is that Muslim immigrants are chronic under-achievers who not only breed like rabbits but are more likely to be dependent on social security and involved in crime than ethnic Germans and other Europeans.

"No other group is so intent on stressing its otherness, especially through clothing worn by women," Sarrazin says. "In no other religion is the transition to violence, dictatorship and terrorism so fluid."

Sarrazin quotes and agrees with Enoch Powell, who in 1968 shocked Britain with his infamous "rivers of blood" speech predicting that the UK would be swamped with West Indian immigrants. In a similar vein, Sarrazin predicts the Germans will eventually be outnumbered by an underclass of Muslims.

"I don't want the land of my grandchildren and great-grandchildren to become predominantly Muslim, or to become a place where Turkish and Arabic are mostly spoken, or to be a country in which women wear headscarves and the daily rhythm is determined by the call of the muezzin," he writes. "Whole clans have a long tradition of incest and correspondingly many handicaps. More children from cleverer people before it's too late."

Towards the end of his 450-page book, Sarrazin presents readers with the grim spectre of a future Germany in which Muslims are in the majority and Cologne's mighty cathedral has to be handed over to the Islamic community for future use as a mosque.
Tony Paterson in the Independent, 1 March 2011
The article also reports on Sarrazin's speech at a meeting in Ehringshausen organised by the youth wing of the Christian Democrats:
The author delighted in telling the crowd about a podium discussion at which a young headscarf-wearing Muslim woman asked him what she should do to integrate herself better into German society: "I told her: 'You must take off your headscarf !' It is legitimate for the German Volk to ask whether it wants to keep its identity."

Ms Merkel's young conservatives had hoped that Sarrazin's reading would spark a lively pro-and-con discussion between their guest and the audience. But the middle-aged crowd in the hall appeared to agree with everything the speaker had to say. Sarrazin was delivered soft-ball questions, such as: "What should we do to stop the rise of the Muslim population?" He replied: "Intelligent women must have more children." He did not mean intelligent Muslim women.

One member of the audience won special applause after stating: "Let's be honest Mr Sarrazin, the whole debate about immigration is being conducted by naïve do-gooders and token immigrants. When are you going to start your own political party?" The author refused to take up the challenge and somewhat meekly replied that he believed the main parties faced their last chance to take up the issue themselves.

Sven Ringsdorf, one of the young conservatives' leaders, said the event has shown that "Sarrazin has struck a chord with the audience". He said the young conservatives had wanted to provide a platform for Sarrazin and had not considered inviting a speaker who might take issue with his views. When Sarrazin's critics have tried to speak at his readings they were shouted down.

In Ehringshausen, judging by the 137-metre queue for signed copies of Deutschland schafft sich ab, it seemed reasonable to assume that the same would have happened this time.