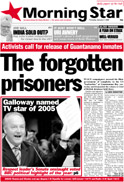 Peace campaigners accused the Blair government of complicity in the US "barbarities" at Guantánamo Bay yesterday and demanded the release or trial of British detainees held there.
Families and supporters of British residents held in Guantánamo Bay for the past three years without charge or trial demanded that they be either released or repatriated to face trial in Britain. The Save Omar Deghayes Campaign delivered giant postcards, depicting Home Secretary Charles Clarke, Foreign Secretary Jack Straw and Prime Minister Tony Blair as the Hear No Evil, See No Evil and Speak No Evil monkeys, to their respective offices to highlight their demand.
Today is the deadline for a High Court response to demands for a judicial review of the British government's refusal to represent these men on the grounds that the refugees are not British citizens.
Morning Star, 5 January 2006