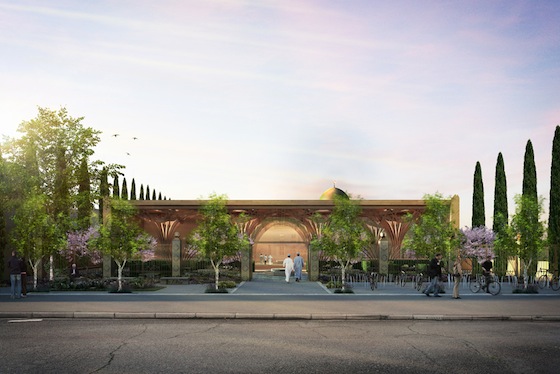 Anti-Islamic vandals have targeted the site of Cambridge's planned new mosque. The graffiti artists daubed offensive messages on the hoardings of the Mill Road building site including "terrorist scumbags". Police have launched an appeal for witnesses to the attack on the city's Muslim community.
Planning permission was granted in August last year for Cambridge's £17.5 million new mosque. The three-storey domed building will be built on the site of the former Robert Sayle warehouse. It will include a prayer hall with capacity for 1,000 people, a café and teaching rooms, plus a library, a mortuary, and a large public garden fronting the street.
But the plans have sparked controversy and the English Defence League has held a march and a rally in the city protesting what they call the "super mosque". And more than 40 neighbours objected to the scheme, raising concerns about parking, noise and the scale of the building.
A police spokesman said: "We were made aware of graffiti being sprayed on hoarding in Mill Road overnight. An officer attended and the city council was contacted to paint over the board. Anyone with any information as to who is responsible should call police on 101 or Crimestoppers, anonymously, on 0800 555111."
The Muslim Academic Trust has already raised more than £4 million to buy the site and its next target is to raise the £13 million construction cost.
Via ENGAGE
Although its February demonstration was very poorly attended, the EDL has continued to organise in Cambridge, holding meetings at the Green Dragon pub in Chesterton.
Update:  See "Anger at vandal attack on Cambridge mosque site after Boston bombs", Cambridge News, 19 April 2013