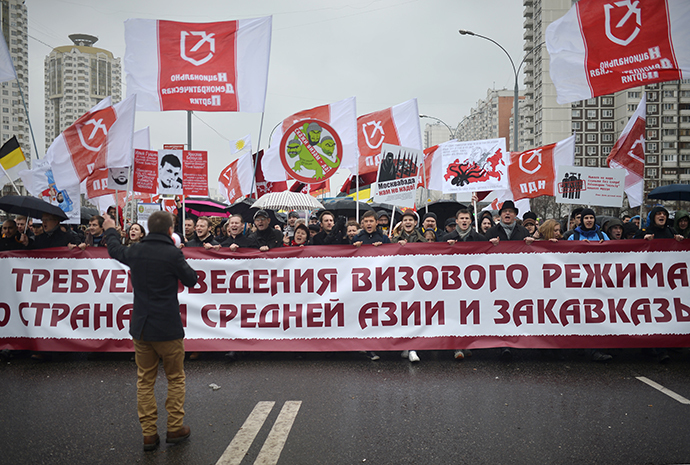 Nationalist demonstration in Moscow in November 2013
A spate of terrorist attacks in southern Russia related to jihadist and anti-Russian insurgencies in the North Caucasus have not only led to heightened security measures, they have also contributed to a rising Islamophobic sentiment amongst many ethnic Russians.
This trend has been epitomized by the release on YouTube of a video purporting to show Russian football fans burning a Koran and forcing an apparently-beaten man of Central Asian appearance to repeat "I renounce Allah." According to the video, the Russians were fans of Moscow's CSKA soccer club, whose followers have previously been linked with ultra-nationalist chants and violence.
While the police are investigating the case – which could lead to charges of extremism or spreading religious hatred, punishable by up to 5 years in prison – this is symptomatic of a general problem. These inter-communal tensions have already exploded into large-scale conflicts, in Kondopoga in 2006, Moscow's Manezh Square in 2010 and the capital's Biryulevo neighborhood in 2013.
Despite subsequent talk about the need to bring communities together, if anything the evidence is of the opposite. Nationalism has moved to the mainstream in Russian politics, with a spate of recent "Russian Marches." Patriarch Kirill of the Russian Orthodox Church made a controversial recent intervention into the debate, expressing concern that "the increase in the number of migrants, primarily from Central Asia and the Caucasus, in Moscow has increased the risk of ethnic conflicts," because, in his view, many were Islamist radicals and "extremely negative to the Orthodox faith".
Meanwhile, there are signs of a backlash. Four Orthodox Churches in the Russian republic of Tatarstan – in which they make up around 55% of the total population – were recently firebombed, for example. The particular danger is that this becomes a vicious circle; allegations of torture have been made by Moslem detainees suspected of these attacks. As a result, a committee to protect the rights of Moslems in detention has been established in Tatarstan. Meanwhile, a North Caucasus advocacy group is seeking to hold a "rally against Islamophobia" in Moscow at the end of January, over the opposition of Ravil Gainutdin, head of the officially-recognized Russian Council of Muftis, who fears that it will just heighten a confrontational spirit.
Beyond fears of terrorism, Russian nationalist concerns range from the demographic – birth rates in the North Caucasus are much higher than amongst the Slavs – to the cultural. Nonetheless, they become a self-fulfilling prophesy as extremists on both sides make this slide towards Islamophobia increasingly difficult to resist.