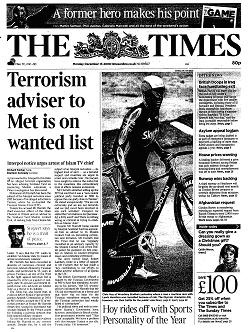 A man wanted by Interpol for his links to an alleged terrorist organisation has been advising Scotland Yard on countering Muslim extremism, a Times investigation has discovered.
Mohamed Ali Harrath has been the subject of the Interpol red notice since 1992 because of his alleged activities in Tunisia, where he co-founded the Tunisian Islamic Front (FIT).
Tunisia has accused Mr Harrath, the chief executive officer of the Islam Channel in Britain and an adviser to the Scotland Yard Muslim Contact Unit, of seeking help from Osama bin Laden. It says that the FIT wants to establish "an Islamic state by means of armed revolutionary violence".
Mr Harrath has been convicted in absentia of numerous criminal and terrorism-related offences by Tunisian courts and sentenced to 56 years in prison.
As is often the case with anti-Muslim witch-hunts these days, this one originates with Harry's Place.