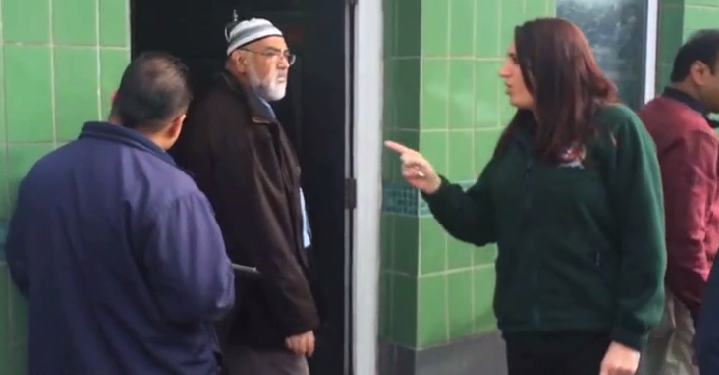 Britain First parliamentary candidate Jayda Fransen abuses worshippers at Gillingham mosque
Started in 2011 by former BNP members Paul Golding and Jim Dowson, Britain First describes itself as "a patriotic political party and street defence organisation".
The group has amassed almost 500,000 likes on Facebook compared to the Conservatives on 293,000, Labour with 190,000 and the Liberal Democrats' 104,000. This popularity has led to questions about how the group has managed to gain so many likes when its offline activities seem to draw few supporters in comparison.
I met the leader of Britain First, former BNP communications chief Paul Golding, and asked him about the kind of posts the group was using to attract likes. One tactic they employ is to post pictures of animal cruelty with text asking people to "Like and share if you demand far harsher penalties for those who mistreat animals".
"All the top grossing charities in this country are animal charities and there's a reason for that. We're just tuning into the nation's psyche (by) posting stuff like that," explained Mr Golding.
Creating posts which appear to have little to do with the aims of the group and which seem aimed at simply garnering the most amount of likes is a tactic used by many far right groups according to Carl Miller, a social media researcher for the think tank, Demos. "Far right groups have always wanted to appear more popular and influential than they are, this is one of the ways in which they think they can have influence on mainstream political decisions."
The people who respond to these messages online may not be aware of the kind of activities their likes are being used to support offline. Britain First has run a campaign of what they call 'Mosque Invasions'. One of these took place at Crayford Mosque, in Kent in July of this year.
Filmed by Britain First, the 'invasion' consisted of a small group dressed in matching green jackets entering the mosque and demanding to see the Imam. A gentleman inside the Mosque points out that they are standing on the prayer mat with their shoes on, to which Mr Golding responds "Are you listening?" before demanding that the mosque remove signs denoting separate entrances for men and women outside. The man asks again for the group to leave and eventually convinces them to go after promising to remove the signs. Before leaving, Mr Golding warns him "You've got one week to take those signs down otherwise we will."
When challenged about the validity of these tactics, Mr Golding said his organisation would not treat those who followed Islam with respect because, in his opinion, they treated women like second class citizens. "We didn't make a distinction in the second world war between moderate Nazis and extreme Nazis did we? We just went to war," he said.
Buoyed by the success of their Facebook page, Britain First plans to stand in the Rochester and Strood by election. How they poll will reveal whether the likes they have accrued online translate into votes offline.
Daily Telegraph, 27 October 2014
---
The Britain First campaign in Rochester and Strood is already under way, and is being conducted in a characteristically provocative and confrontational fashion.
On Friday, Britain First turned up outside the Kent Muslim Welfare Association mosque in Gillingham, where their candidate Jayda Fransen harangued worshippers over the Association's plans (already agreed by Medway Council) to expand into a new larger building.
Fransen denounces this as a "mega mosque", although it will have a maximum capacity of only 400. Neither the current mosque nor the new premises are even in the seat she's contesting – they're both in the neighbouring constituency of Gillingham and Rainham.
Fransen's abuse of ordinary Muslims who are peacefully observing their faith clearly qualifies as religiously aggravated harassment, which is an offence under the Crime and Disorder Act.
How long does the Muslim community have to wait before the police provide them with the protection to which they are entitled against the criminal actions of Britain First, and the Crown Prosecution Service authorises charges being brought against Fransen and her friends?