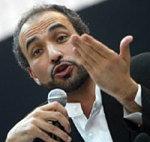 The city of Rotterdam is extending its contract with Tariq Ramadan for another two years, dismissing claims that the Swiss philosopher made homophobic and misogynistic statements.
Last month, the Gay Krant, a newspaper for the homosexual community in the Netherlands, accused Tariq Ramadan of making homophobic and misogynistic statements on tapes in Arabic destined for the immigrant communities in Europe.
Ramadan (46), a Swiss philosopher and theologist of Egyptian descent, was hired by the city of Rotterdam two years ago to "help lift the multicultural dialogue to a higher level". He dismissed the Gay Krant's accusations as slander.
The city of Rotterdam has since carried out its own investigation, the results of which were presented on Wednesday. The city had 54 Arabic-language cassette tapes translated and examined. According to council executive Rik Grasshof of the Green party GroenLinks, the Gay Krant's reporting was incomplete and inaccurate.
As a result, Ramadan's contract with the city will be extended for another two years, during which he will lead public debates in an effort to bring the various communities in Rotterdam closer together.
The right-wing liberal party VVD, one of four coalition parties in the city government, had demanded Ramadan's resignation following the Gay Krant's accusations. "He can think what he wants but he cannot spread homophobic ideas in the name of the city of Rotterdam," VVD council member Bas van Tijn said.
Van Tijn also questioned what Ramadan brought to Rotterdam. "How can someone who doesn't speak Dutch bring the communities in Rotterdam together? Especially if that someone is constantly accused of having a double discourse?" Van Tijn asked.