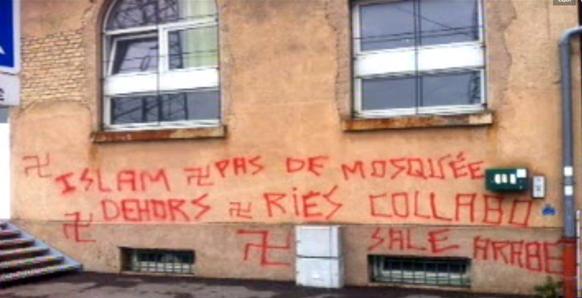 Racist graffiti was found on Wednesday 23 May on the wall of a Muslim place of worship in Strasbourg, which the mayor had made available to the Muslim community in 2009 to build a small mosque in the neighbourhood.
The graffiti included swastikas and the slogans "dirty Arab", "Islam out", "no mosque", and "Ries collaborator", a reference to the Socialist mayor of Strasbourg, Roland Ries.
"We condemn these unspeakable acts, like any act of racism, antisemitism or Islamophobia", said deputy mayor Olivier Bitz, who expressed his "solidarity" with Strasbourg's Muslims.
The president of the association that manages the place of worship has decided to press charges and an investigation has been launched by the police.
This mosque is the third in less than a week to have been covered with Islamophobic graffiti following similar attacks on mosques in Draguignan and Tarascon.