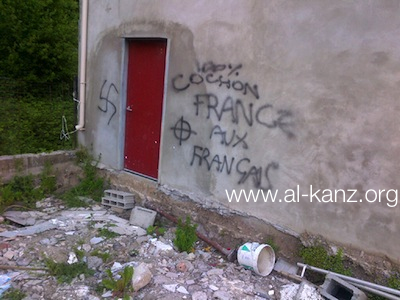 Al Kanz reports on a new case of mosque desecration in France.
The latest act of vandalism took place in Alsace, at Illzach, a commune of 15,000 inhabitants on the outskirts of Mulhouse.
On Saturday morning a swastika, an Odin's cross and racist graffiti were found on the wall of the mosque, which is still under construction. The slogans read "100% pig" and "France for the French".
Al Kanz points out that this is the fifteenth such attack on a French mosque this year and follows only a few days after a pig's head was thrown at a mosque in Chenôve near Dijon.