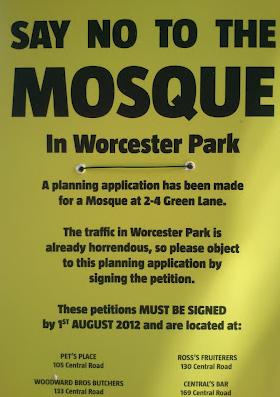 Plans for a controversial new mosque in Worcester Park have been met with fierce opposition.
Businesses and residents have joined forces to sign a petition to ensure the plans do not go ahead. Petitions have been seen in various shops along Central Road which claim the increased traffic would bring the area to a stand still.
Sutton Council has received a submission for a place of worship at numbers 2-4 Green Lane. Although the council are yet to confirm plans are for a mosque, the drawings which have been submitted include plans for a male and a female prayer room.
The petitions cite traffic as the main issue, but scratch a little under the surface, and a different picture becomes clear. One businessman said: "It's not just the traffic but I'm being diplomatic. This can not happen."
Your Local Guardian, 25 July 2012
There is also, predictably, a Facebook page titled "Ban the Worcester Park, Green Lane Mosque". Its wider objective is to "Ban the every growing building of Mosques in and around the surrounding area Epsom and Ewell".