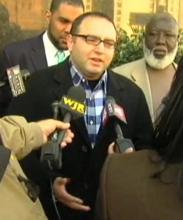 A group of Muslim-Americans filed a lawsuit today against the U.S. government, alleging they were profiled, handcuffed and subject to invasive body searches at the U.S.-Canada border because of their religious and ethnic background.
Filed in Detroit, the lawsuit is the latest case involving allegations that U.S. agents are abusing their power at border crossings between the U.S. and Canada. Three other lawsuits have been filed in federal court over the past year involving women of non-Muslim backgrounds who also say they've been subject to invasive strip searches.
Today's lawsuit was filed on behalf of four local Muslim-Americans by the Council on American-Islamic Relations and Shereef Akeel, a Huntington Woods attorney. The suit was filed after the Council had filed complaints last year with the civil rights office of the Department of Homeland Security. A department official, Margo Schlanger, said last year it was legally unable to deal with the complaints.
And so the lawsuit was filed, said Dawud Walid, head of the Michigan branch of the Council on American-Islamic Relations.
The lawsuit says several local Muslims, including the imam of a big mosque in Canton, were at various times detained, handcuffed, strip searched, and interrogated for hours.
Sometimes, agents would surround their car with guns. Agents would ask questions like: Which mosque do you go to? How many times a day do you pray? Who is your religious leader? Do you perform your morning prayer at the mosque?
"The questioning and treatment … humiliates Muslim American travelers … and wrongly stigmatizes them as violent threats based solely on … their religious beliefs," the lawsuit says.
The suit alleges the men's constitutional rights were violated; it was filed against three federal agencies, Customs Border Protection, Transportation Security Administration, and the FBI.
Detroit Free Press, 13 April 2012
See also "Lawsuit: US agents harassing Muslims at border", Associated Press, 12 April 2012