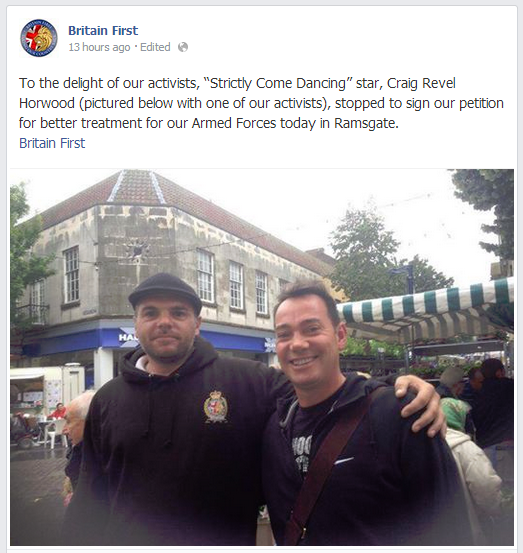 Strictly Come Dancing star Craig Revel Horwood was duped into being pictured with a far-right extremist group. The TV judge posed for a shot with a man he thought was a fan – which was then used as propaganda on Britain First's Facebook page.
Craig tweeted: "To let all my followers know that I in no way support Britain First! Photo taken in Ramsgate during photos and signing autographs for fans."
Britain First emerged from the collapse of the BNP and EDL and style themselves as a paramilitary force. They distribute hateful anti-Islamic propaganda on the streets and on the internet.
The Britain First Facebook page shows smiling Craig with one of the group's activists in a picture uploaded on July 11. The caption reads: "To the delight of our activists, "Strictly Come Dancing" star, Craig Revel Horwood (pictured below with one of our activists), stopped to sign our petition for better treatment for our Armed Forces today in Ramsgate."
The picture received 1,800 'likes' and dozens of comments from the group's supporters.
Ade Dennis wrote: "Excellent! Nothing wrong with getting some well known names on board to raise the profile." Jacob Pulman also left a supportive comment. He wrote: "Shocked he supports Britain first tbh he's gone up in my estimations." Dorothy Goldsworthy wrote: "Good old Craig, celebrity support always helps a good cause." And Jean Chapman said: "Well done Craig."
The Britain First Facebook page boasts of how it "invades" mosques and includes pictures such as an image of shadowy men with baseball bats.
Craig, 49, addressed the matter via Twitter today after a reporter called his agent. His own fans expressed sympathy in comments underneath the dancer's post.
Comedian Damon Scott, a former Britain's Got Talent contestant, wrote: "I was with @CraigRevHorwood when @BritainFirst had a photo with him. It was 1 of many fan photos that day. Niether of us support this group."