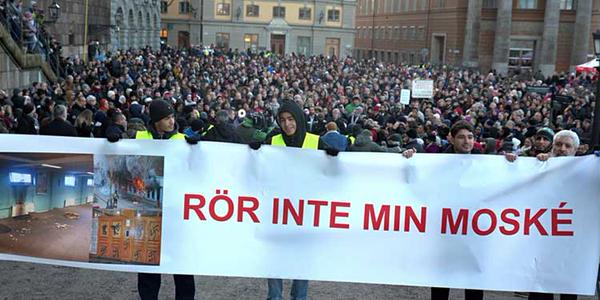 'Don't touch my mosque' – banner on Stockholm demonstration
Thousands of people turned up to a rally in Stockholm in support of Sweden's Muslim community on Friday afternoon following three arson attacks on mosques, with other demonstrations scheduled to take place in Gothenburg and Malmö.
The crowds in Stockholm waved placards and listened to speeches from leading figures within the city's Muslim community as they gathered on the cobbled streets outside the Royal Palace in the Swedish capital's Old Town, known as Gamla Stan.
The largest banner at the demonstration read: "Don't touch my mosque".
Anti-racism campaigner Yasin Ahmed, 43, told The Local he was "surprised and thrilled" that so many people had turned out for the event on a cold January 2nd.
"I came here because I am against the mosque attacks. They are not only attacks on mosques but also against Swedish democracy. I am a Swedish citizen first and I am also a Swedish muslim seeking to protect my rights and to show solidarity with others to deal with this Islamophobia".
After Culture and Democracy Minister Alice Bah Kuhne took to the stand, she told The Local that Sweden should still be seen as "a paradise" for immigrants from different nations despite the current tensions.
"The most important thing that we can do now, as a government, a people, and a country, is to really put the effort into making an action plan to change this," she said.
Swedish police are still searching for suspects linked to the third arson attack against a mosque in a week, which took place in Uppsala on Thursday amid growing tensions over the rise of a far right anti-immigration movement.
The mosque has since been covered in paper hearts from people pledging their support to muslims.