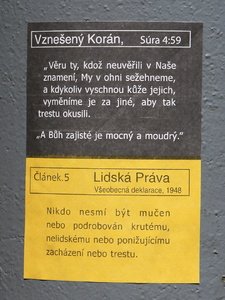 Stickers against the Koran have appeared around the mosque in Brno and in the Prague underground probably with the aim to stir up conflicts and encourage prejudices, Vladimir Sanka, deputy head of the Muslim Communities Centre, told CTK today.
The Brnensky denik local daily reported on Monday that similar stickers were displayed near the Brno mosque that became a target of an attack by unknown vandals in the past.
Petra Edelmannova, chairwoman of the ultra-right extra-parliamentary National Party (NS), expressed support for displaying the stickers in the town, she told Brnensky denik.
"Similar events are namely part of our campaign," said Edelmannova though she did not confirm that her party was behind the stickers.
The municipal police say the number of racist posters, stickers and sprayed inscriptions has considerably increased in Brno recently.