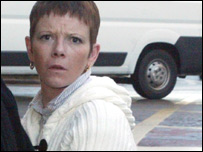 A 32-year-old woman who stabbed an Asian teenager she called a terrorist has been jailed for six years.
At the High Court in Edinburgh, Mary McKay admitted attempting to murder Tarik Husan, 17, in Tollcross Road, Glasgow, on 10 September, 2007.
Lord Menzies said: "It seems to me this was a completely unprovoked attack on an unarmed stranger in the public street without any explainable motive."
McKay will be supervised for two years after her release.
She stabbed Mr Husan in the chest and arm at a bus stop in Glasgow and told him "you're all terrorists". McKay, who had taken cocaine, later claimed she had gone to stab her mother, but had missed the bus and stabbed Mr Husan instead.
The court heard that after the attack she walked into a shop still clutching the knife and waited for the police to arrive. "I just stabbed a guy with the same colour of skin as a terrorist," she later told police.
Mr Husan, 17, had only arrived in Scotland a short time before the attack.