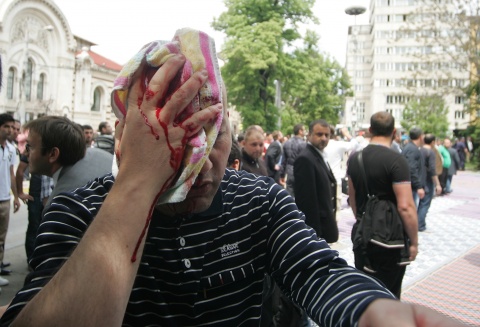 The Sofia Municipality will request a decreasing of the volume of the Sofia central mosque speakers, stated mayor Yordanka Fandakova Sunday.
Speaking in an interview for TV7, the Sofia mayor, who is a representative of Bulgaria's center-right GERB ruling party, said the measure will be taken to tone down tensions following the May 20 incident, in which representatives of extreme nationalist Ataka party, including MPs, attacked Muslims during Friday prayer.
The Ataka supporters had gathered that Friday on a protest motivated precisely by a request to lower the allegedly excessive volume of the minaret speakers of the Banya Bashi mosque in downtown Sofia. Several persons of both sides were injured in the disgraceful incident, which provoked the outrage of Muslims and large parts of Bulgarian society.
Key GERB representatives, including PM Boyko Borisov, Minister of Interior Tsvetan Tsvetanov and Sofia mayor Yordanka Fandakova failed to firmly condemn the events, simply characterizing them as a "lamentable" incident marking the inception of campaigning for municipal and presidential elections in the fall.
Sunday Fandakova said that the Ataka supporters had obviously breached public order and full investigations are underway. Nevertheless, she said she will press for lower levels of sound from the mosque during prayers.
"We will do everything possible to lower the volume, in order to decrease tensions. I believe that in this way we will go back to a normal tone of discussion, for safeguarding religious freedoms precludes interfering with public order by means of excessive noise from loudspeakers," stated the mayor of the Bulgarian capital.