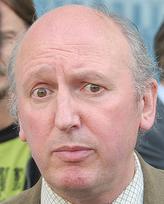 Anders Gravers of Stop Islamisation of Europe brings us the news that Stephen Gash, SIOE's organiser in England, will be retiring from that post.
I think it's unlikely that anyone will notice. While Gash would no doubt like to look back on the successes registered by SIOE England during his period of leadership, his actual record in the struggle against the Muslim hordes has amounted to a series of embarrassing flops.
Gash first came to prominence in what is now called the counter-jihad movement in October 2007 when he organised an SIOE "Stop Kuffarphobia" protest in central London. Gash told the police he was expecting a thousand demonstrators, but in the event only thirty turned up. Unwilling to stop the traffic for such small numbers the police wouldn't let them march along the road and insisted that they use the pavement instead.
Gash then announced an SIOE protest against Harrow Central Mosque in August 2009. On the day, faced with hundreds of anti-racist counter-protestors, the police refused to allow SIOE to hold its demonstration outside the mosque and Gash himself was arrested when he resisted instructions to turn back. A couple of dozen football hooligans from the English Defence League who came to support Gash were chased away by local youth and reduced to cowering behind police lines. All in all, a complete disaster for SIOE.
Not a man to be deterred by failure, Gash announced a further SIOE protest in Harrow in December 2009, which he confidently predicted would draw a crowd of 2,000. In the outcome, only about fifteen people responded to Gash's call.
Perhaps disappointment and humiliation have finally proved too much for Gash. While SIOE England has got nowhere, the EDL have at least been able to mobilise hundreds of brain-dead Islamophobes behind their own anti-Muslim provocations. A would-be general of the counter-jihad movement, Gash's ambition was fatally undermined by an unfortunate lack of troops. You'd need a heart of stone not to laugh.