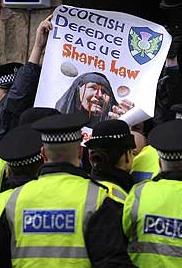 The far-right Scottish Defence League is planning a march in one of Scotland's most multi-cultural areas in the middle of Ramadan.
The group has applied to Glasgow City Council for the event, which is timed to coincide with the birthday of Kriss Donald, the teenager murdered by an Asian gang in the city almost a decade ago.
However, talks were held with the group on Friday with an aim of steering them away from the Pollokshields area on Glasgow's south side to an alternative venue. The Herald understands, though, that the group has refused the offer of a static protest at nearby Queens Park and is insisting upon marching.
The group is an offshoot of the English Defence League, essentially a far-right street protest movement which opposes what it considers to be a spread of Islamism, Sharia law and Islamic extremism in the UK.
The last time the group entered the Pollokshields area it descended into chaos, with mounted police, helicopters and scores of officers deployed in the area, home to Scotland's largest Asian community, despite a maximum of 10 members of the SDL turning up.
The SDL group had wanted to lay a wreath near the spot where William McKeeney was murdered in January 2012 by Asian youths, despite pleas from his family for no event. A counter protest by up to 100 members of the United Against Fascism also gathered in Pollokshields and had to be kept apart from the SDL by lines of police. The cost to the public purse of the three-hour incident was estimated to have run into tens of thousands of pounds.
Another event in March saw about a dozen SDL members kettled by about 200 police officers in Glasgow's St Enoch Square.
The current application sees the group planning a march of around 100 of its members from Pollokshields East railway station and around Albert Drive and Maxwell Road.
It is thought talks are ongoing to persuade the SDL to take march to the fringes of the city centre. The city council does not have automatic powers to ban the parade and can only prevent it if the police make a robust case of public disorder.
A council source said: "They've asked for a route through Pollokshields and our obvious concern is the make-up of the local community and the fact they want to wave Kriss Donald's name about the place. It's also during Ramadan.
"We're not in a legal position to say 'go away we don't like you' but we're trying to come up with an alternative and we're speaking with one voice with the police on this. You also have the disproportionate numbers of officers required to take into account counter demonstrations."
A council spokesman said: "We received a notification that the group intends to hold a procession in the Pollokshields area. We have some concerns about that plan and have met with the organisers and police to try and negotiate. That process is ongoing."