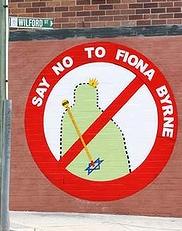 The Greens candidate tipped to take the once-safe Labor seat of Marrickville from the Deputy Premier, Carmel Tebbutt, in the state election has been targeted in a mural over her council's decision to boycott Israel.
Marrickville Council's support for the global Boycott, Divestment and Sanctions campaign (BDS) against Israel in December has already been the subject of hostile questions to the Greens candidate and mayor of Marrickville, Fiona Byrne, at a debate with Ms Tebbutt last week.
Yesterday a mural in Newtown stating "Say no to the burqa" was temporarily repainted by its artist, Sergio Redegalli, to read "Say no to Fiona Byrne". The burqa-clad woman with a strike through her was replaced by a figure in green and a mayoral sceptre stabbing a Star of David.
Mr Redegalli, a Newtown resident, said he was only keeping the new mural up for 24 hours to document it.
The artist said he was not a member of any political party and "hates" Labor. "[I wanted to] get people to look up Fiona Byrne, see who she is, what she stands for," he said.