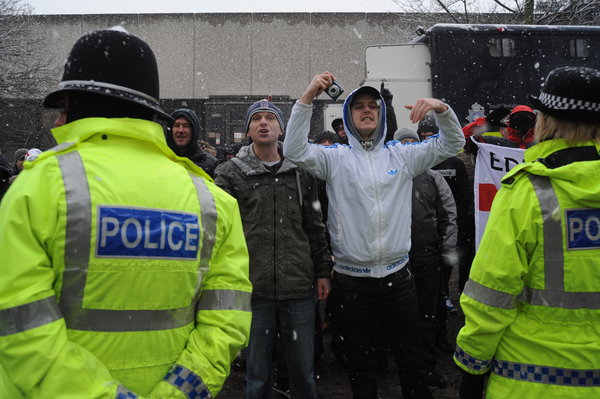 About 60 English Defence League supporters from across the north came to Barnsley "intent on causing disorder", said Barnsley's commanding police officer.
Ch Supt Andy Brooke admitted the force was surprised by the arrival of the EDL group, which marched to Churchfields where a Unite Against Fascism parade was congregating.
Mr Brooke said officers acted quickly to contain the EDL and prevent disorder. He said: "About 60 or 70 EDL arrived in the Courthouse car park. They marched en masse towards the UAF intent on confronting them and causing disorder. Officers put a cordon in place and dispersed them. It was extremely problematic because there were a few officers and a significant number of EDL."
There were no arrests but a number of public order offences are being investigated.
Barnsley Chronicle, 21 February 2011
---
The UAF march was in fact against the British National Party, and the EDL intervention against UAF was in solidarity with the BNP. See "Barnsley: antifascists march as EDL's links to BNP exposed", UAF news report, 19 February 2011