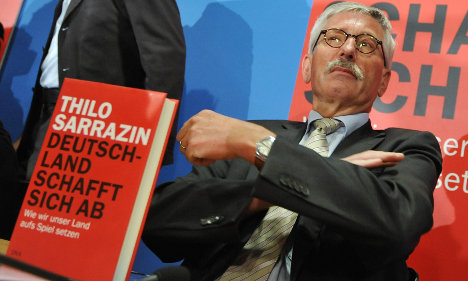 Germany's opposition Social Democrats were thrown into turmoil yesterday when a prominent Jewish party member resigned from the party in disgust over its refusal to expel the anti-Muslim author Thilo Sarrazin from its ranks.
Sergey Lagodinsky, founder of the Social Democrat (SPD) Jewish Working Group, joined hundreds of furious party members expressing their dismay at a decision taken before Easter not to expel Mr Sarrazin for his virulent criticism of Muslim immigration.
"As a Jewish person," Mr Lagodinsky wrote in his letter of resignation to the party leadership, "I had seen a possibility to revive Germany's long Jewish tradition together with other minority and majority groups in our country. That hope is now dashed."
Several hundred SPD members signed an online petition yesterday, which insisted that Mr Sarrazin's "racist attitudes" had no place in the party.
Mr Sarrazin, a veteran SPD backer and former Bundesbank board member, has provoked uproar in Muslim, Jewish and liberal circles with his book, Deutschland schafft sich ab ("Germany is doing away with itself"), an almost wholly negative interpretation of the effect of Turkish-Muslim immigration.
Using questionable statistics, Mr Sarrazin argues that Muslim immigrants are chronic under-achievers who are more likely to be dependent on social security and involved in crime than Germans or other Europeans. "In no other religion is the transition to violence, dictatorship and terrorism so fluid," he writes. He claims that as Muslims have far more children than ethnic Germans, Germany is in danger of becoming swamped and outnumbered by a Muslim underclass. "I don't want the land of my grandchildren and great grandchildren to become predominantly Muslim," he concludes.
The controversy has turned the book into a bestseller, selling 1.3 million copies since it was published last year.
Mr Sarrazin's local SPD branch in Berlin met before Easter to discuss the controversy but rejected demands that the 65-year-old author be expelled for his views after he claimed that his arguments had been misinterpreted and that he did not discriminate against any migrant.
Critics say the SPD's refusal to expel him was motivated by fears that a large number of grass roots members agree with his theories and that if Mr Sarrazin were ejected, the party would risk losing support. As Mr Lagodinsky put it in his letter of resignation: "I cannot stand to remain in a party that is afraid to take on Sarrazin because they all agree with him down at the pub."
Nils Schmidt, the 37-year-old Social Democrat leader in the southern state of Baden-Württemberg whose wife is Turkish, told Der Spiegel: "We have been fighting for 150 years to ensure that social background does not determine the fate of the individual. Sarrazin and his biological theories turn all this on its head. His book is an affront to all our policies on integration."
However, Andrea Nahles, the SPD's national general secretary, defended her party's decision to keep Mr Sarrazin: "You cannot just throw somebody out of the party even if he behaves in such a controversial manner."