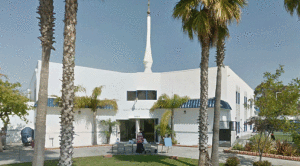 San Diego police had a bomb squad standing by on Wednesday as they searched the Clairemont apartment of a man suspected of making death threats at a nearby mosque during Ramadan.
No explosives or weapons were found in Larry Michael Rodgers' apartment on Belden Street near Marlest Driver, police Capt. Brian Ahearn said.
Rodgers allegedly walked into the Islamic Center of San Diego in Clairemont early Monday morning, caused a disruption, then walked out saying, "I'm going to kill all of you," Ahearn said.
Two men in the congregation followed him and called police, and officers caught up to him on Convoy Street. Rodgers was arrested on suspicion of making terrorist threats. He remained in jail on $50,000 in bail, and was to be arraigned Wednesday afternoon.
Ahearn said investigators were concerned that Rodgers may have been behind a series of verbal bomb threats made against the Islamic School of San Diego, next to the mosque, in May. One threat left on the school's answering machine said, in part, "I'm going to throw a bomb at your (expletive) school."
"We don't know if he's involved in the threats to the school," Ahearn said. "In light of his conduct on Monday, we're using caution in the service of the warrant."
The Metro Arson Strike Team bomb squad met officers at a police substation shortly after 9 a.m., then went to the Belden Street residence. Officers searched the apartment for several hours, and did seize some items, Ahearn said. He said Rodgers has no history of similar incidents.
In the Monday incident, Imam Taha Hassane said there were about 20 congregations members at the mosque when Rodgers walked in shortly after 4:30 a.m., before the 5 a.m. daily prayer. Though it is the Muslim custom to remove one's shoes before entering a mosque, Hassane said Rodgers did not do so, and a member of the congregation asked if he would like to go inside and pray.
The month of Ramadan, holy to Muslims, started on July 9. Hassane said there are usually about 100 congregants at the mosque at 5 a.m., and more during Ramadan, but most people had not arrived yet.
Hassane said a second person came forward to ask if Rodgers needed anything. "He started calling them terrorist rats," Hassane said. "When he left he said, 'I'm going to kill you all.'"
Mosque officials are working with police on the case. Hassane said that while in the past, some people have yelled insults while driving past the mosque, no one had ever walked in before and made threats. "It's not easy to understand," Hassane said.
San Diego Union-Tribune, 17 July 2013
Update:  See "CAIR seeks hate crime charges for threats to S. Calif. mosque worshippers", CAIR press release, 18 July 2013