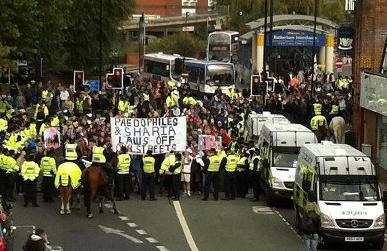 Rotherham's councillor responsible for community cohesion has written to Home Secretary Theresa May describing the impact of the far right English Defence League's march in the town – and calling for membership of the group to be banned.
Coun Jahangir Akhtar said there were "several arrests" and a number of skirmishes between groups of people in the town centre after the march. He estimated the cost of the police operation during the event, and a rival gathering by Unite Against Fascism, was £300,000.
Coun Akhtar said: "The damage to the wider economy is also significant – possibly of greater magnitude to the policing costs as many town centre businesses decided not to open for fear of staff and customer safety, damage to their premises, the rise in insurance costs and the down-time in making repairs."
Coun Akhtar said he has since asked South Yorkshire Police why they did not apply to have the EDL march banned.
He said: "The EDL's expressed reason for this demonstration was to protest against 'the sexual exploitation of young girls'. The EDL has misused this issue in Rotherham, as it has misused other issues in local communities, not because it has a great sense of justice for these communities but instead because it serves their racist, Islamophobic objectives."
Coun Akhtar urged Ms May to ban the EDL. He said: "It is high time the EDL was added to that list of proscribed organisations for creating fear and promoting hatred."