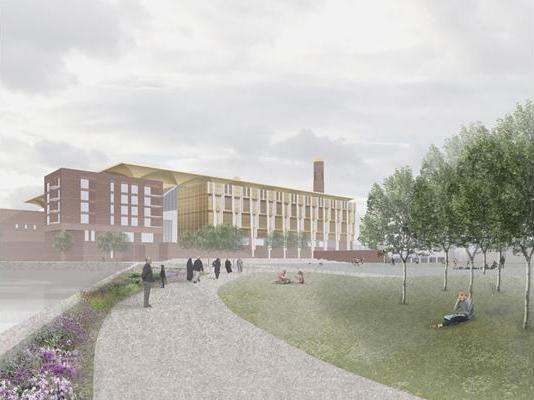 The team behind plans for Newham's so called 'mega mosque' have met theRecorder for the first time to spell out their vision.
At the site of the proposed development in Canning Road, West Ham – also known as the Abbey Mills Mosque – were four of the prime proposers. Solad Mohammed, one of three trustees, was with project volunteers, including their spokesman, Yousuf Aslam, to show us around last week.
As we walked across the former industrial site, close to historic Abbey Mills Pumping Station, they explained how they hope to transform the grounds into a tranquil and peaceful place for Muslim worshippers and the wider community.
The 6.3-hectare site, where a chemicals factory once stood, was purchased 16 years ago by Anjuman-e-Islahul Muslimeen, the charitable trust behind Tablighi Jamaat, a Muslim movement with millions of followers worldwide. Since then, derelict and mobile units have been used as mosque facilities, attracting up to 3,000 worshippers each week. However, a survey undertaken for the team before they recently submitted a planning application found a "considerable" shortage of worshipping facilities within Newham and surrounding boroughs.
Previous plans to bulldoze the current buildings of the Riverine Centre and replace it with a major mosque complex failed after Newham Council issued an enforcement notice for trustees to vacate the site after a permit expired, but they successfully appealed the decision.
Under the latest plans, the mosque has been scaled back from holding 12,000 to 9,350 people, including a segregated space for nearly 2,000 women. Architects say the main complex measures 165 metres by 140 metres with a floor space of 20,000 square metres. That is almost the equivalent of three football pitches.
The mosque itself will be 20 metres high, 120 metres wide and 90 metres long, and it will feature two 55-metre minarets. Other parts of the development include a library, dining hall, visitors centre, eight flats for imams and guests, and 264 parking spaces, along with tennis courts, a garden and a riverside walk along Abbey Creek.
Architects NRAP describe the buildings as featuring a shimmering golden facade and making subtle references to traditional Islamic architecture through the use of perforated metal screens and geometric shapes rather than through domes and arches.
The complex is expected to take four years to build if the project is given the go-ahead by Newham Council later this year.
Responding to fears about the size of the development, Yousuf Aslam said: "It's not unusual for a football stadium to hold 50,000 people. Muslims are required to pray five times a day so we are trying to provide the modern facilities they need to achieve this. There are problems with space and access to the current buildings and mobile units, such as the wash basins and toilets. A lot of older worshippers would benefit from better disabled access."
The team say they cannot estimate the costs of the development and say funds will be raised entirely from individual donors.
Solad Mohammed said: "We have no commercial interest and will not have any retail outlets. We just want to provide a mosque for Muslims to worship and facilities for the wider community. The project would provide a lot of construction jobs in a post-Olympics Newham. Our study shows that no commercial enterprise will touch the site. The cost of decontaminating the land means spending so much money there would be no profits to be made."
He added its cul-de-sac location means limited access for deliveries whereas good public transport links would make it easy for worshippers to reach.
Mr Mohammed is confident they will have no problems raising the necessary funds. "We raise money as and when required, such as for architects. People are keen to help build something like this because they want to reap the rewards. There are 90,000 Muslims in Newham and people often donate funds, so that is not unheard of. We knocked on doors in Newham for our consultation and found a lot of support." The feedback from the consultation laid the basis for the planned facilities, the team added.
Responding to claims that Tablighi Jamaat is an extremist and sexist organisation that promotes segregation, Mr Mohammed said: "It's normal to provide separate space for women; it's common in other religions as well. Tablighi Jamaat is a very peaceful and honourable movement. They have followers in 90 per cent of Britain's mosques so to say that a terrorist went to one of their mosques is like saying they went to Asda or Tesco."
The team say media coverage has been so hostile that they refused to have their photographs taken for us.
Newham Recorder, 10 October 2012
An admirably balanced report, you might say, which goes some way towards answering the ignorant and irresponsible coverage from the likes of the Evening Standard and the Daily Star.
Unfortunately, the Recorder has to go and spoil it by concluding the article with a reference to the MegaMosqueNoThanks website launched by right-wing Christian fundamentalist agitator Alan Craig, who is quoted as saying:
"The sheer size of the mosque betrays the ambition and arrogance of Tablighi Jamaat. Their religious ideology is divisive and hostile to non-Muslims, and there is certainly no local demand for something of this magnitude. We want to keep West Ham united."
An aggressive bigot like Alan Craig trying to maintain the harmony of West Ham's diverse community? That'll be the day.