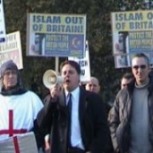 Teachers in England should not be banned from membership of the British National Party or any group which may promote racism, a review has concluded.
The government commissioned the report last September after a leaked list identified 15 BNP members as teachers. Review author Maurice Smith added his recommendation should be reviewed every year, which ministers have accepted.
BNP leader Nick Griffin welcomed what he called a "common sense review" and said it was a great day for democracy.
Mr Smith said: "I do not believe that barring teachers or other members of the wider school workforce from membership of legitimate organisations which may promote racism is necessary at present."
The NASUWT union, which has campaigned to have BNP members banned from schools, said it was disappointed by the review's findings.
General secretary Chris Keates said the report was "an opportunity that's been missed" to bring teachers into line with police and prison officers. "The idea that a person who signs up to membership of the BNP can simply leave these beliefs at the school gate and behave as a 'professional' when they walk into school is risible, " said Ms Keates. "The report is woefully inadequate and littered with contradictions."
Update:  See "Why we must ban BNP from schools", Sun, 13 March 2010