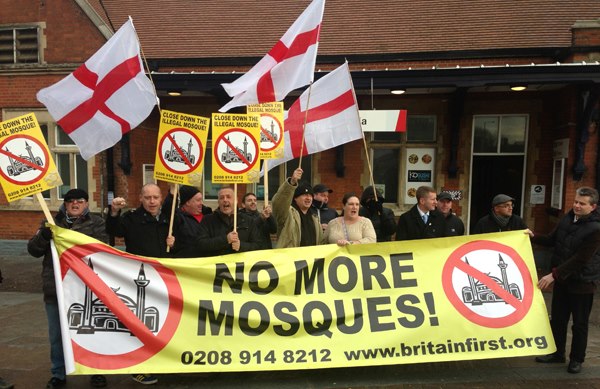 Under the headline "'Pandemonium' takes over meeting about Muslim Apex Primary School expansion". the Ilford Recorder reports that Mohammed Asif, chairman of the Federation of Redbridge Muslim Organisations, is concerned about the way Apex Primary School is being treated, following a council planning meeting which refused to allow discussion of a retrospective application for an additional 64 places at the school.
Mohammed Asif also referred to what the report describes "as a load of Islamophobic comments on a website". Which one is not specified, but it seems a fair bet that the reference is to the website of Britain First, a far-right group that originated in a split from the British National Party and is led by former BNP councillor Paul Golding. Although only a small group, Britain First has ambitions to contest the European parliamentary elections in May, and has been attempting to win a wider base of support by targeting the Muslim community.
Britain First's report on Apex Primary School's planning application provoked comments from its supporters such as: "If you want a muslim school, go to a country that has already been ruined by muslims, don't bring their prehistoric ways to Britain", "Get retro permission to kick all out and they can be taught the hatred in a diff country", "Pack the whole lot off back to Pakistan. YOU KNOW THEY MEAN TO TAKE OVER DON'T YOU", and so on.