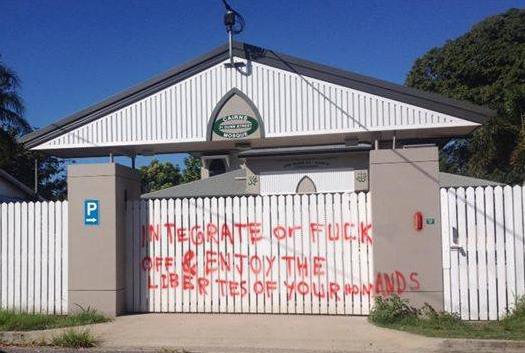 A mosque in Cairns in far north Queensland has been targeted by vandals. The front of the Cairns North mosque was sprayed with large red letters early yesterday, calling for the worshippers to "integrate" or return to their "homelands".
Imam Abdul Aziz Mohammed, 81, says he has been involved with the Cairns community for decades and cannot do any more to integrate.
"I've lived here in Cairns all my life and this is the first time we've ever seen any physical opposition to our religion and basically our family," he said. "My family's been here since 1900 and I was shocked, to say the least."
The attack has been condemned by local political leaders.
The Federal Member for Leichhardt, Warren Entsch, says it is laughable, given the Imam's family has as history in the far north dating back more than a century.
"He's got an accent that's broader than mine and I think as a community we need to be able to get behind Abdul and his community," he said. "They are part of our rich culture, and any suggestion they are anything other than that is an absolute nonsense. It shows you the small-minded minority that we have in this town."
The State Member for Cairns, Gavin King, says it is an isolated incident that does not reflect the views of the community.
"I don't think there's a more peaceful, more respectful Muslim community anywhere in Australia," he said. "The Imam's father moved to Cairns in 1900. If the dropkick who did this vandalism has a longer history in Cairns, I'll walk backwards to Brisbane."
See also "Vandal attack shocks peaceful worshippers of Cairns mosque", Cairns Post, 5 November 2013
And "Anger at vandal attack on Cairns mosque", ABC News, 5 November 2013
(Photo:  Gemma Ambrose)
---
Cairns is the home town of the deeply unpleasant "counterjihad" blogger Werner Reimann, or "Sheik Yer'Mami" as he prefers to be known. Back in the day, Reimann did his best to whip up hysteria over plans to establish a mosque in Cairns, urging his supporters to "do whatever it takes" to stop Muslims from "spreading their tentacles" into the area, but to no avail. Reimann's website, Winds of Jihad, has yet to comment on the graffiti attack on the mosque.

Update:  Having previously published a guest post on the issue from Sergio Redegalli, the "artist" responsible for the "Say no to burqas" mural in Sydney ("when a small mosque in Cairns suffers a graffiti attack, the multicultural shriekers from the Cairns fishwrap throw temper tantrums and can't prostrate themselves enough to show their submission to the supremacist cult of Islam"), Reimann has finally got round to commenting on the incident himself.
You'll be pleased hear that he takes the view that "graffiti is a scourge and vandalism is a crime" and "there is no justification for it". However, he really can't see what all the fuss is about: "The imam should be happy: he got lots of free promo, a few seconds on TV and assurances from the  multiculti establishment  to continue with his da'awa."
Rather than condemning the perpetrators of the attack, Reimann directs his indignation against journalists like Andree Stephens, who published an op ed in the Cairns Post ("When stupid is beyond stupidity") denouncing those responsible for the graffiti. She wrote: "I am not just angry over the idiot who thought making a stand against a local mosque was somehow patriotic, I am cringing."
For Reimann this is just another example of journalists "prostrating themselves to Islam". He reproduces several (unpublished) letters his friends have sent to the Cairns Post objecting to the paper's coverage (here, here and here) of the graffiti attack. These are a couple of extracts:
"A mosque is not like a church but is modelled on mosques in Medina at the time of Mohammed. Mosques were command centres, places to deal out Sharia punishments and plan warfare."
"Churches, temples and synagogues in Islamic countries would be happy
to suffer only from criminal nutcases spraying graffiti. Sadly a large
and growing number of Muslims follow the prescriptive instructions of
the Koran and regularly burn down, bomb and  shoot  the places where
Christians, Hindus, Buddhist and Jews congregate. Preferably while
many non-believers are in the building."
Reimann concludes his article by reproducing the adapted antisemitic cartoon promoted by the English Defence League, his purpose being to suggest that the Cairns graffiti attack was very likely carried out by the mosque's own imam.