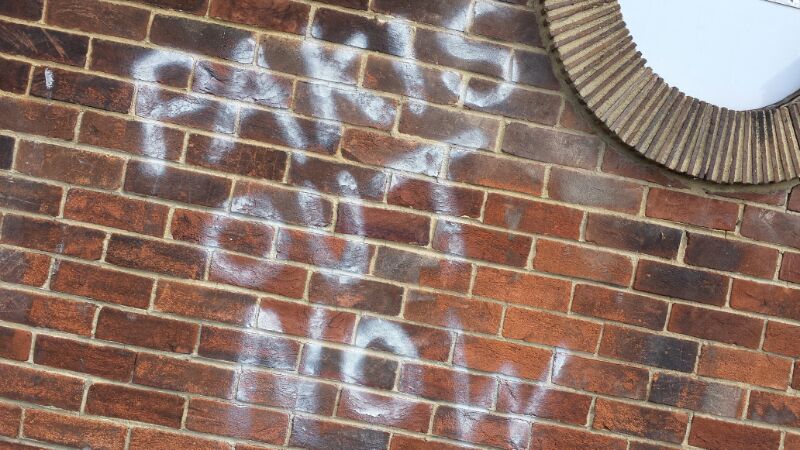 Racist graffiti has been daubed on a former pub that is being turned into an Muslim-run community centre in Leeds. Unknown vandals spray painted Islamophobic remarks and racist jibes on the walls and windows of the long-abandoned Lingfield pub, in Lingfield Drive, Moortown, overnight on Friday.
Plans for the UK Islamic Mission (UKIM) charity to turn the site into a public gym, IT suite, library, training room, café and prayer room for up to 70 people, were passed by Leeds City Council in February.
It is the second time the building has been targeted by vandals – the words "no mosque" were sprayed on the building before a council meeting discussed the plans earlier this year.
Mohammed Arif, deputy chairman of UKIM Leeds, said: "We hope that it's the action of a mindless few and it doesn't reflect the wider community's views – of course some of the graffiti was deeply offensive. Anyone that has any respect for other people's beliefs would not do something like that."
He said the charity is installing CCTV on to the site to deter any more would-be vandals. The graffiti has now been removed by council officers.
Far right demonstrators from the English Defence League protested against UKIM's plans at the old pub earlier this year, prompting a counter demonstration from Unite Against Fascism.
Coun Dan Cohen (Con, Alwoodley) said: "Any graffiti on any building is unacceptable but when it's racist graffiti it's all the more detestable – there's simply no place for that kind of sentiment."
The plans were approved, which should see the refurbishment start within the next year.
A West Yorkshire Police spokesman said it is monitoring events and that patrols in the area have been increased.
Yorkshire Evening Post, 4 June 2013
Via ENGAGE
See also "Racist graffiti targets new mosque site in Leeds", Asian Echo, 2 June 2013
Update:  Supporters of the "Moortown and Leeds Against the Islamic Centre" Facebook page have been expressing their sympathies with the attack.