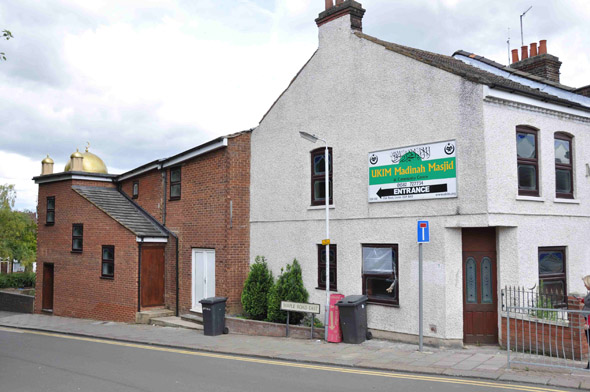 Racist thugs vandalised a Luton mosque during the early hours of Friday morning. They spray painted "EDL" and a swastika – the symbol of Nazi Germany – on the walls, and smashed windows.
Imaam Shahid Ahmed from the Madina Mosque in Luton spoke toSocialist Worker about the attack.
"We locked up the mosque at 11.30pm on Thursday night, everything was fine. When I returned at 4am for morning prayers I found the windows smashed. The words 'EDL' were painted on both sides of the mosque and a symbol [swastika] was also painted on one wall."
Bedfordshire police attended the scene and the council immediately removed the racist graffiti.
Shahid said that the racists who attacked the mosque are ignorant. "They have no understanding or respect for any religion," he told Socialist Worker. "This is a place of worship. We live in a multicultural society. We have to respect each other."
Dave Barnes from Unite Against Fascism in Luton went to the mosque to offer solidarity.
"The attack on the Madina mosque was exactly the same form ofattack we saw on homes in Bury Park the night after the EDL protest in February – windows smashed and EDL painted on the walls. It is clear who is behind the attack.
"We have to stand united against racism. This attack has made us even more determined to organise to get as many people as possible to Tower Hamlets on 3 September to take part in the national protest to stop the EDL marching through the heart of London's Muslim community."