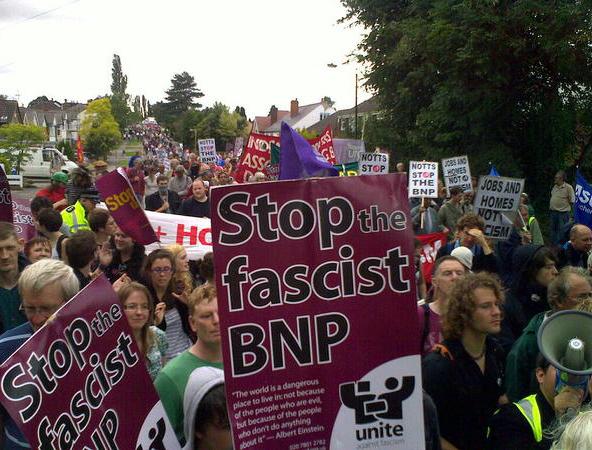 "Last weekend the BNP's annual shindig 'Red, White and Blue' took place in a small town in Derbyshire. Reports said that the number of attendees was only marginally more than the number of anti-fascist protesters who congregated outside the gate.
"Unfortunately, these anti-BNP protesters soon became violent – leading to a total of 19 protesters being arrested. Although it is good to see ordinary people protesting against the BNP, such protests become ineffective when they descend into thuggery and hooliganism."
So Lucy James, research fellow at the Quilliam Foundation, writes at Progress Online.
No other account has alleged "thuggery and hooliganism" on the part of anti-BNP protestors at Codnor, so far as I'm aware. The worst that was reported was "minor scuffles" as some demonstrators tried to push through police lines.
A Reuters correspondent, who unlike Lucy James actually witnessed the protest, wrote that "the atmosphere as hundreds of demonstrators from across Britain descended on the village Codnor in Derbyshire seemed more one of cheerful determination to celebrate and protect multi-cultural Britain than a belligerent mob set on fist-fighting in fields".
Acting assistant chief constable Steve Cotterill was reported as saying: "We are pleased the protest has been mainly peaceful. We have made fewer arrests than last year."
UAF has stated: "Unite Against Fascism is aware of around a dozen anti-fascists arrested on the day, mostly those involved in occupying road junctions. We believe that such tactics of non-violent direct action are a legitimate response to the BNP's racist thuggery and we do not believe anyone should be arrested for such actions."
As things stand, only four people have so far been charged as a result of the Codnor protest – three with public order offences and a fourth with unlawfully obstructing the highway. And the three individuals charged with public order offences are BNP supporters.
How much lower can the creeps at Quilliam sink?
Update:  James has posted a version of her Progress piece at Comment is Free.  It has now been amended to read "some of these anti-BNP protesters soon became violent" (how many, she does not say) and "such protests become ineffective when they descend into heavy-handed violence" (as distinct from light-handed violence perhaps?) But the accusation of violent behaviour on the part of anti-fascists remains.