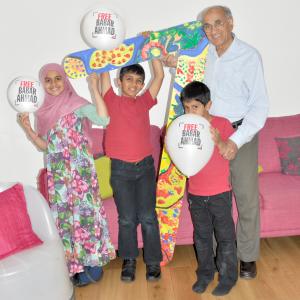 The family of a terror suspect has launched a fresh petition urging the government to finally give him his day in court.
This month marks seven years since Babar Ahmad, from Fountain Road, Tooting, was imprisoned without trial following an extradition request from the United States.
To mark the unhappy milestone, his family has set up an e-petition calling on the official government website urging them to put him on trial in the UK. They are aiming to get 100,000 signatures to force a parliamentary debate about the case.
Mr Ahmad's father, Ashfaw Ahmad, said: "This anniversary brings back dreadful memories of that day seven years ago when I received a call from the police telling me that my son had been arrested. Babar – it's been 7 years but we will not let you be forgotten."
Babar Ahmad remains in a maximum security prison in Worcestershire where he has become the longest-serving British terror detainee without a formal charge.
An IT technician at Imperial College, London, he was believed to be the leader of a small UK based group providing "logistical support, financial assistance, recruits and computer expertise" for overseas Jihadi groups when he was arrested.
He was later released without charge but was placed back in custody in August, 2004, awaiting extradition to the United States on terror charges. His final appeal against extradition is currently with the European Court of Human Rights, with a judgement expected later this year.
Wandsworth Guardian, 13 August 2011
Sign the petition here