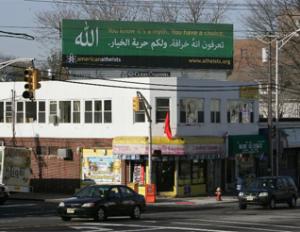 Paterson, New Jersey — A note of provocation was all too evident when an atheist group put up a huge billboard a block from the area's largest mosque, saying in Arabic as well as English that religion is based on nothing more than myth.
The big green sign with white and gold lettering, mounted above a liquor store at Broadway and East 33rd Street, was put up by the group American Atheists. It says, "You know it's a myth … and you have a choice." It appears about a block away from the Islamic Center of Passaic County, the city's biggest mosque.
The message was not meant to anger Muslims, or even change anyone's mind about religion, said David Silverman, president of American Atheists. He said instead that he's calling out to that community's "atheists and asking them to come out of the closet."
"If pointing out there are atheists in a community is seen as provocative, that's too bad."
Men leaving the mosque after prayer on Wednesday seemed neither perturbed nor unsettled by the billboard, and some even saw it as positive.
"It's a knock on the door," Abdul Hamid, 40, said as he crouched to get his shoes after noon-time prayer at the Islamic Center of Passaic County. "If they want to come and have an open dialogue with us that's great."
Anes Labsiri, a 39-year-old plumber, said he was happy people can question religion in public. "Some people might see it as a bad thing. I think it's a good thing. I love that you have this freedom in this country," said Labsiri, who came from Morocco in 1998.
Mohamed El Filali, the mosque's executive director, says he's even planning to invite Silverman to join a panel discussion on science in the Quran later this month.