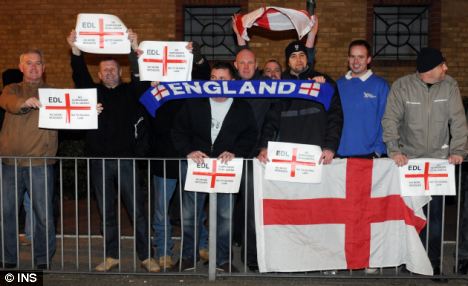 English Defence League supporters protest outside the council meeting
A controversial plan to build a mosque with two 100ft minarets next to Sandhurst has been scrapped to the jubilation of thousands of residents.
The £3million building would have had a clear view over the military academy and is just 400 yards from its parade ground – prompting fears it could be a security threat. A listed Victorian school building was set to be demolished to make way for the huge Saudi Arabian-style building.
More than 6,500 residents signed a petition to oppose the application because of fears it would change the Victorian character of the area.
The gigantic mosque was the idea of the Bengali Welfare Association, which worships at the al-Kharafi Islamic Centre in Camberley. The Victorian school, built in the 1860s, has been used as an Islamic Centre since 1996.
The plans for a new mosque were originally approved by Surrey Heath Borough Council's planning committee earlier this year, but overturned on a technicality. On Wednesday night they finally backtracked after massive public opposition.
A special council meeting had to be held at the Camberley Theatre because of the volume of interest. Residents queued from 9.30am to make sure they got into the meeting, which started at 7pm. More than a thousand people sat inside the hall, while more residents who could not get in waited outside for the verdict.
All but two of the 36 councillors voted to refuse the planning application – a decision which was greeted with cheers both in and outside the theatre.
David Chesneau, chairman of the Camberley Society, said: "This was definitely the right result. They were thinking of knocking down a listed building. A mosque in its place would not have preserved or enhanced the Victorian and Edwardian character of the area."