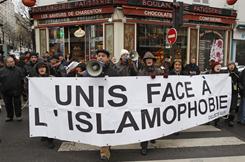 About 150 people protested Saturday outside the site of a conference in Paris organized to criticize the "Islamization" of Europe.
Protesters held banners reading "United Against Islamophobia" and "Fascists, get out of our neighborhoods." Socialist Paris Mayor Bertrand Delanoe had asked police to ban the conference, but police allowed it to go forward under surveillance.
The conference was organized by several French groups, including nationalist political group Bloc Identitaire, that frequently complain about what they see as Islam's growing influence over traditional French values. Several hundred people attended the conference, which also was broadcast over the Internet.
"Resistance against Islamization is alive. Nothing can stop it!" Bloc Identitaire wrote in a statement about the conference on its website.
Several speakers came from outside France. Oskar Freysinger, a lawmaker with the nationalist Swiss People's Party, arrived wearing a bulletproof vest and accompanied by bodyguards. Freysinger had campaigned last year to ban the construction of minarets in Switzerland – a law that drew international condemnation when voters approved it in defiance of a government recommendation.
At the lunch break, organizers served wine and pork sausage – typical products of France that are shunned by many Muslims.
Associated Press, 19 December 2010
See also "Anti-Muslim groups descend on Paris", The National, 19 December 2010
And for details of the organisations behind the conference, see Laurent de Boissieu, "Convergence nouvelle entre extrême droite, laïques et féministes", iPolitique, 19 December 2010
Pierre Cassen, the founder of one of these organisations, Riposte Laïque, is a former Trotskyist who still claims to be on the left. Bloc Identitaire, by contrast, has its origins in the French far right.